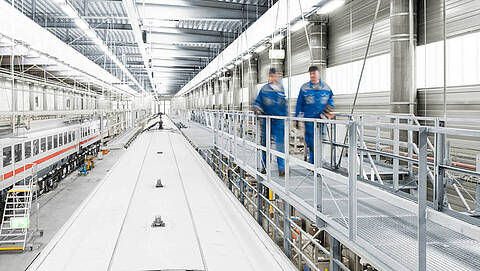 Customized to your needs
Roof working platforms are as diverse as the infrastructure in which they are used. Each system has to be specially matched to the local conditions and to the job they have to perform.
Various operating principles are involved, with equipment ranging from slide-out designs using extension/retraction or fold-out systems to side-pivoting platforms. Electronic control systems play a key role here because of the large number of dependent links that exist between the drives and the contact strips and the switching of the catenary and access equipment. Here, the focus is very much on human safety, the aim being to keep risk levels to an absolute minimum.
Robust mechanical solutions are also used to ensure that everything runs smoothly day in and day out - especially with inspection and maintenance work on modern rolling stock and traction units now placing increasing demands on turnaround times in railway workshops.
Our ability to come up with various engineering solutions enables us not just to design and build technical installations, but also to provide consultative support for our clients. Why not make the most of our experience for your own operations!
Our services
Blumenbecker offers a wide range of services for its roof working platforms. Our most important service, though, is probably pre-sales consulting. We work with you to analyse individual requirements and develop the solutions that consider not just your technical needs but your budget as well. Our goal is always to supply the best-possible solution for you.
We engineer and design all our roof working platforms ourselves. With our engineers' expertise, you can rest assured that your ideas will be realised exactly as you envisioned them from the moment the engineering process begins.
Blumenbecker is known for its high quality standards. All our locations are certified to DIN EN ISO 9001. No product leaves our facility without thorough testing.
We protect the value of your investments by modernising your roof working platforms.
We examine and test your mobile roof working platforms in the intervals prescribed by DGUV V3 and other regulations. This includes preparing the necessary documentation for you.
We provide tailor-made, manufacturer-independent maintenance and immediately make any repairs that may be necessary.
We generally keep a stock of the most important wearing parts for the machinery we sell and can ship them out within 24 hours. We can also provide professional engineering and repair services for more complex challenges by working with our other business divisions. Also, thanks to our many service centres, our technicians are never far away and can keep your roof working platforms running smoothly.