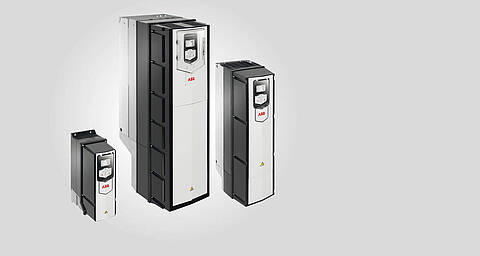 Upgrade now to variable-speed drives
ABB Industrial Drives
Variable-speed drives regulate the operation of electric motors and save energy by adjusting the performance of motorised pumps, fans, conveyor belts and similar devices to the actual requirements of the system. Saving energy not only reduces costs – it also minimises CO2 emissions, so you'll be making a contribution towards climate protection.

The combination of highly efficient motors and frequency-controlled drives can multiply the energy saving potential still further.

ABB Industrial Drives offers you the opportunity to make the most of this potential efficiency. Most industrial motors and the methods that have been tried so far to control them, including for fans and pump applications, have only wasted energy.

The disadvantages of basic control methods
There are many simple control methods such as throttle control and by-pass control. As they are usually very easy to set up, they appear, at first glance, to be value for money.

But the disadvantages outweigh the advantages:
It is very difficult to achieve optimal process capacity, which in turn delivers the best quality, with a basic control method.
It is usually necessary to overhaul the entire process in order to increase the production capacity.
Every time the machine is switched on directly, there is a risk of electrical or mechanical damage.
The simpler control methods use a lot of energy, which means that your total operating costs will be higher than if you were using variable-speed drives.
Over the length of the service life, the investment and operating costs for simple control methods are much higher than for variable-speed drives.

AC drive for three-phase current drives from 0.18 kW to 5,600 kW

The world's largest supplier of low-voltage AC drives, ABB has products ranging in performance from 0.18 to 5,600 kW. They offer a wide range of application solutions, e.g. pumps, fans and compressors, for conveying technology and for sophisticated crane and marine applications, to meet very diverse customer requirements.

The products range from ABB Component Drives through ABB Standard Drives to the high-performance servo drive, ABB Machinery Drive.
ABB AC drives
ABB Component Drive
ACS55, ACS150 AC drives from 0.18 kW to 4 kW
Supply voltage 110-480 V.
ABB Component Drives have been developed specifically for use in machines. We supply them together with other components.
ACS55 product range
Power range 0.18 to 0.37 kW (1-phase 100 to 120 V)
Power range 0.18 to 2.2 kW (1-phase 200 to 240 V)
Degree of protection IP20 Standard
No programming – self-explanatory, easy to use
Fast, safe drive configuration with the DriveConfig-Set
Specifically for applications in residential buildings, swimming pools and air conditioning systems
ACS150 product range
Power range 0.37 to 2.2 kW (1-phase / 3-phase 200 to 240 V)
Power range 0.37 to 4 kW (3-phase 380 to 480 V)
Degree of protection IP20 Standard (optional UL - Type 1)
Integrated user interface
Mains connection configurable in two seconds
Applications
Fans
Pumps
Door drives
Material transport
Conveying technology
ABB General Machinery Drive
ACS350 AC drives from 0.12 kW to 11 kW
Supply voltage 200-480 V
ABB General Machinery Drive AC drives were developed specifically for the engineering industry. In series production, the time required per unit is a critical factor. These AC drives offer fast installation and easy parameterisation and commissioning. The basic models were designed to be as user-friendly as possible yet still offer many integrated functions. The AC drives are also suitable for high-end applications.

Applications
Food and luxury foods sector
Material transport
Textiles industry
Printing industry
Rubber and plastics industry
Timber processing industry
ABB Machinery Drive
ACSM1 AC drives from 0.75 to 100 kW
Supply voltage 380-480 V
ABB's Machinery Drive gives the engineering sector a high-performance servo drive that can control asynchronous and synchronous motors, asynchronous servo motors and torque motors with an almost infinite variety of sensor systems as well as for open-loop applications. The compact hardware, flexible programming and the innovative idea of having a plug-in memory module for the software permit flexible drive configurations with very high availability.
ABB Standard Drive
ACS550 0.75 kW to 355 kW
Distribution voltage 200-480 V
The Standard Drive from ABB can be used in a wide range of different industries. Typical applications include pumps, fans and constant-torque applications such as conveying systems. It is particularly well suited to situations where easy installation, commissioning and operation are crucial and there is no need to adapt it to the customer's requirements or do any special planning.
ABB Industrial Drive
ACS800, ACS800-01, ACS800-02, ACS800-04, ACS800-04LC, ACS800-07, ACS800-07LC, ACS800-11, ACS800-14, ACS800-17, ACS800-31, ACS800-37, ACS800-104, ACS800-104LC, ACS800-107, ACS800-204, ACS800-304, ACS800-304LC, ACS800-404, ACS800-704, ACS800-704LC
AC drive 0.55 to 5,600 kW Supply voltage 230-690 V
The ABB Industrial Drive is an AC drive designed for use in industrial applications and particularly for applications in the processing industry, including pulp and paper, metal processing, mining, cement manufacturing, energy generation, chemistry, oil and gas.

These AC drives are extremely flexible and can be configured very precisely to suit the requirements of the respective industrial applications. Configuration to suit the application therefore forms part of the product offer.
Single drive AC drive modules are designed to be added to customers' existing switching cabinets. Multidrive DC-AC converters have been developed for drive systems in which the converter modules are supplied with power from a shared DC conductor rail.
ABB DC power converters
DCS400/DCS800
ABB DC power converters are available in regenerative-capable or non-regenerative-capable models. ABB offers solutions from digital DC power converter modules for typical OEM applications to complete drives in switching cabinets. They are extremely suitable for the modernisation or extension of existing drives and are available with 12-pulse systems in a power range from 9 kW to 18 MW. The latest generation of ABB power converters are particularly user-friendly and compact and cost very little to operate and maintain.