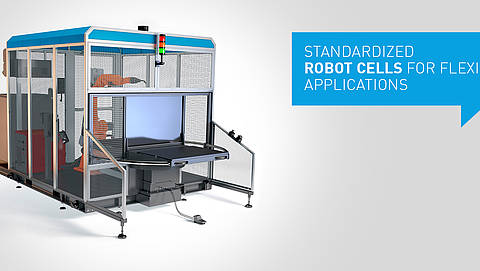 Robotic Welding Cells
Compact. Complete. Flexible.
Standard welding cells
From one-off to series production
Robot welding cells are gaining in popularity. No wonder: welding robots can be deployed in a very small space and quickly reconfigured as needed. This makes robot welding very attractive, even for smaller companies.

Blumenbecker has long been a leading technology provider for arc welding, spot welding and laser welding in the automotive industry. This accumulated experience informs the development of our welding cells for various needs. Our welding cells are highly modular and standardized and so can be quickly adapted to any task. They are excellent choices for welding-intensive businesses of any size since the robots deliver consistent quality at any time of day.
Blumenbecker standard welding cells are plug-and-play for unprecedented mobility and flexibility. Being rugged machines, they can be easily moved to their production station by a forklift or crane and then simply plugged in to the power and supply lines. Setup and teardown takes very little time and results in minimal production downtime. Do you want to reconfigure your machine to produce other components or versions? Not a problem. Our machines are easy to expand thanks to their modular design and uniform platform size.

We supply two lines of standard welding cells:
Arc2GO for arc welding
Weld2GO for laser welding
We can deliver a standard welding cell perfectly tailored to your needs.
Five benefits of standard welding cells
1. Robust
Blumenbecker standard welding cells are extremely rugged. That means they can easily be moved around your production area with a forklift or crane.
2. Inexpensive
Our robot cells are an excellent value because we build them to be modular and are not tied to any one manufacturer.
3. Variable
Choose between Arc2GO robot cells for arc welding and Weld2GO robot cells for laser welding.
4. Plug and play
Standardized supply connections speed up commissioning – fast and easy.
5. Safe
We provide a one-of-a-kind all-round service, from the initial consultation, design and programming to maintenance by our service technicians.
Blumenbecker Arc2GO
For one-off and series production
We supply Arc2GO standard welding cells in three basic configurations:
With a manual two-station turntable
With an electric two-station turntable
With a 3-axis KUKA Posiflex system
We can also ship the welding cells with a safety roller door if you wish. This reduces the overall footprint and is particularly suited for cells with electric turntables.

Blumenbecker's Arc2GO standard welding cells have a compact design that allows a small footprint, greater application versatility and exceptional user friendliness. Thanks to their extreme mobility – they can easily be moved by forklift and crane – they can be readily integrated into existing production environments, and if changes need to be made, can be quickly and flexibly placed wherever they offer the most benefit and efficiency in the production line.

We can also supply other cell-based robot applications for specific purposes such as gluing or handling. Ask us for details!
Robot cells Arc2Go
Arc2GO with manual turntable
Our Arc2GO robot welding cell with a manual two-station turntable is our entry-level arc welding model. It is ideal for small and medium-sized companies. This simple, cost-effective solution has a payload capacity of up 100 kg per side.

Data
Cell dimensions: 2300 x 4200 mm
Fixture area: 700 x 1000 mm
Rated connection voltage: 400 V, 50 Hz
Overcurrent protection: 63 A
Air: 6 bar
Arc2GO with electric turntable
Our Arc2GO robot welding cell with an electric two-station turntable allows easy handling of even heavy workpieces. The payload capacity is up to 550 kg per side.

Data
Cell dimensions: 2400 x 5400 mm
Fixture area: 700 x 1200 mm
Rated connection voltage: 400 V, 50 Hz
Overcurrent protection: 63 A
Air: 6 bar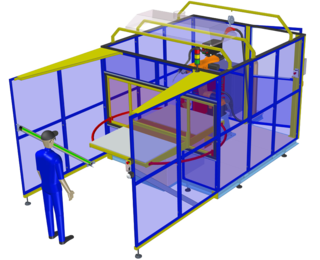 Arc2GO with Kuka 3-axis Posiflex system
Our Arc2GO robot welding cell with a 3-axis KUKA Posiflex system and two horizontal positioners combines a high rotation speed with minimal delays. All three axes are synchronously controlled with the robot. The multi-axis positioning system orients workpieces quickly and precisely, boosting productivity and quality and ensuring maximum efficiency and process reliability. The payload capacity is up to 1,000 kg per side.

Data
Cell dimensions: 3400 x 6500 mm
Fixture area: 800 x 1800 mm
Rated connection voltage: 400 V, 50 Hz
Overcurrent protection: 63 A
Air: 6 bar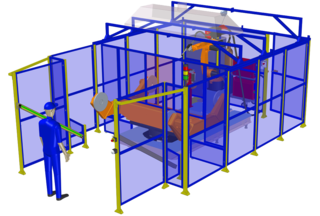 Blumenbecker Weld2GO
Premium-quality laser welding
Laser welding stations are used for manifold manufacturing applications – from brazing roofs and tailgates in the automotive industry to welding door skins prior to pressing. However, they can also produce attractive welds that require no finishing in stainless steel, aluminium or copper.

Weld2GO is a complete, mobile, standardized system for robot laser welding and cladding.

Robot cells Weld2Go
Weld2GO Laser Welding
fully equipped cell with technology and preparations
Plug & Play - commissioning at the customer within 8 hours
easily moveable technology - robust base frame
certification according to EN12254 - double Al wall, safety features prvky
Benefits:
possibility of extending about 7th or 8th axis robot
optimal use of space and laser source
Cell dimensions:
width 2300 mm
depth 3750 mm
height 2600mm
Dimensions of part:
floor plan: 1000 x 700 mm (w x d)
working area: 1000 x 700 x 400 mm (w x d x w)
weight component: max. to 2 x 500 kg (on each side rotary table)
Weld2GO Laser cladding
The Weld2GO laser welding cell is a standardized robot cell with a sliding top. It can be easily relocated with a forklift and expanded to up to eight robot axes.

Laser cladding deposits virtually any type of material onto the surface of a workpiece. This process works especially well for finishing surfaces and is often used to repair large components such as dies, moulds or drive and turbine parts that are too expensive to simply replace.

Benefits:
loading by overheadcrane or forklift
possibility of extending about 7th or 8th axis robot
Cell dimensions:
width 2300 mm
depth 2750 mm
height 2600mm
Dimensions of part:
floor plan: 2000 x 1000 mm
working area: 1200 x 800 x 400 mm (w x d x h)
max. mass: 2000 kg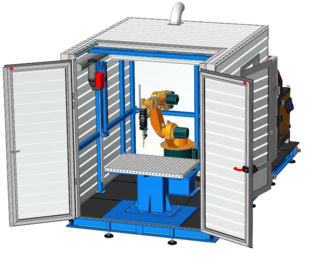 Weld2GO Components
Weld2GO consists of several modules that can be used together or separately. They include:
Robust baseframe (safety cell)
Complete laser and robot system (robot, laser source with accessories, cooler, control system, cladding head, powder feeder and automatic robot path generation)
QuickConnect – prefabricated supply connections that use quick-couplings
This plug-and-play cell can be ready for operation within eight hours of installation.

Weld2GO is certified to EN12254. It can easily be moved by forklift or gantry crane thanks to its compact design.

Benefits:
robust base frame
complete laser and robotic technology (laser, cooler, control system, control the robot, security, ...)
links with laser cell with connectors - quick commissioning at the customer
ability to connect directly to the cell
Cell dimensions:
width 2300 mm
depth 2000 mm
height 260 mm
Technical parameters:
voltage supply 3x400V/ 50 Hz, 32A (except power laser)
compressed air min. 6 bar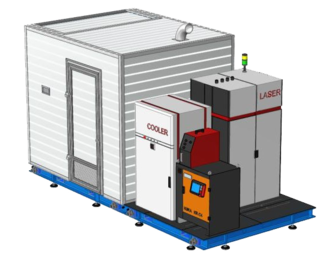 Robotic workplaces & Robotic cells
Design Office & Assembly Workshop
In 2008, we founded our own machinery Design Office and Assembly Workshop in order to offer our customers significantly more comprehensive services than it was in the past, when we concentrated mainly on creation of application software. Today's workshop is fully equipped with mechanical appliances (lathe, cutters, shears, circular and band saw, etc.). There are two KUKA robots available for developing and testing of user's robotic applications. Designers make use very powerful 3D software Solid Edge ST2 for 3D modeling both individual parts and final weldments, further for automatic generation of 2D drawings from 3D models directly, etc. For off-line robot programming a special powerful software POWER MILL ROBOT INTERFACE is used, which represents a considerable shortening of the period for the creation and subsequent easy maintenance of user programs. This software also allows off-line optimizing of robot working paths. The concrete result of our Design Bureau.
Our services
Blumenbecker offers a wide range of services for its roboter welding cells. Our most important service, though, is probably pre-sales consulting. We work with you to analyse individual requirements and develop the solutions that consider not just your technical needs but your budget as well. Our goal is always to supply the best-possible solution for you.
We program the control units for our robot welding cells at our factory using in-house experts and state-of-the-art software.
We generally keep a stock of the most important wearing parts for the machinery we sell and can ship them out within 24 hours. We can also provide professional engineering and repair services for more complex challenges by working with our other business divisions. Also, thanks to our many service centres, our technicians are never far away and can keep your machinery running smoothly.
Offline simulation lets us design and test welding processes in a dynamic 3D environment, define and validate process sequences with realistic behaviours and optimised cycle times and simulate initial start-up operations.
That way, we can eliminate design flaws early on and verify information flows between PLCs and robots. All these preparations get your system up and running much sooner.
Installation / Dismantling
Our trained installers will professionally install and dismantle your robot welding cells following a modernisation or a similar project.
We offer a variety of training courses on different practical topics at our robotics workshops or our in-house competence centre for welding technology, for example. All courses are taught by highly qualified instructors.
Crane training courses: We offer crane operator certification classes for various types of crane. Once the participants have passed the final written and practical exams, they will receive a crane operator certification for the crane type that they trained for.
Robot training courses: Participants are introduced to industrial robots and learn how to perform simple maintenance tasks themselves.
E-procurement training courses: We teach people how to use the e-procurement software systems that their companies have adopted.
Our skilled technicians perform routine maintenance on robots – whether we supplied and installed them or not. We operate in this capacity as a KUKA System Partner, for example.
Repairs that cannot be completed in the field will be performed at one of our well-equipped repair shops. We keep frequently needed spare parts in stock.
We can also help with any unforeseen problems with your robots. We respond swiftly and use tried-and-tested troubleshooting processes to get your production up and running again quickly.
Products and manufacturing processes change, and your robots need to change with them. When this happens, our engineers can reprogram your robots. They can also make design and functional modifications and address your retooling needs.
We engineer and design all our products ourselves. With our engineers' expertise, you can rest assured that your ideas will be realised exactly as you envisioned them from the moment the engineering process begins.
After your roboter welding cells has been shut down temporarily or newly installed, our skilled engineers and technicians will professionally commission your roboter welding cells and monitor the start-up process.