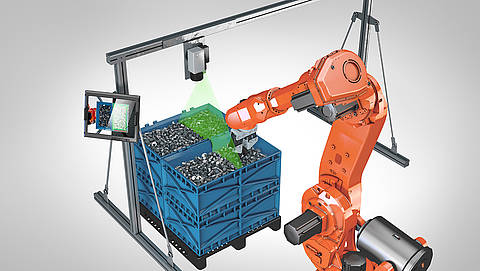 Bin Picking
Automated object recognition and positioning
Recognize and remove
Robots perform increasingly complex tasks. Despite all the automation, there are still situations in modern-day production where it is more economical to load boxes or crates haphazardly than to invest time and manpower in loading them neatly. This, however, only shifts the problem from one end of the production line to the other. After all, you still need to unload the chaotically loaded objects and send them to the next station for processing. This takes manpower unless the work is done by singulators such as vibratory bowl feeders.
Interaction between robots and camera technology
BIN PICKING is a technology in which a robot, equipped with a 3D camera, takes parts out of a container filled with unorganized, often irregularly shaped pieces and aligns them properly before sending them to the next station. The challenge is to process differently shaped objects held in containers in an entirely random order.
Blumenbecker is a pioneer in this field, specializing in the development of sensor systems for industrial robots and the design of special gripping tools.
Your advantages
Precision of part detection is +/-2mm with size of bin 1200x800x500. In case of smaller bin, precision is better, in case of larger bin its worse.
Cycle time is 8-25 seconds. Cycle time will be shorter if we can pick part from bin and directly deliver part to another process. If it's needed to grab part from another side or rescan part for better identification, cycle time will increase.
One bin picking solution can handle more parts. Gripper of robot might be designed to handle more types of parts or gripper can be exchangeable.
There could be also two bins with two robots under one longer camera portal. These robots could handle different parts.
It's possible to pick parts also from conveyor belts.
Robot collision free trajectory is computed for entire robot path in advance.
Task areas of the robot application Bin Picking
Bin Picking basically involves five tasks:
OBJECT IDENTIFICATION: Selecting the right measurement method, camera technology and resolution for different lighting conditions and component surfaces.
OBJECT POSITIONS: Identifying the right algorithms for finding object positions in three dimensions.
MOVEMENT: Identifying the right algorithms for finding object positions in three dimensions.
GRIPPERS: Designing component-specific grippers.
SOLUTION PACKAGE: Combining all these elements into one functioning robotunit.
Vendor-independent solutions from Blumenbecker
One challenge in BIN PICKING is that a vast amount of data must be processed in real time. For example, the robot must identify the part from a vast collection of 3D data. Then, a calculation method is needed to guide the robot axes and the gripper to the selected point. The robot axes can perform various movement sequences in order to reach the desired component. Some sequences, however, would result in a collision with the bin. Blumenbecker has developed a proprietary solution that, before starting a movement sequence, checks for collision hazards, calculates alternatives and then provides a corrected path for the robot system.
Blumenbecker supplies sensors and software supported by all types of robots, but also has its own design department to develop and build the required grippers.
Solution under one roof
Four basic parts of the robotic workplace
The Box (pallet, cage etc.) as an "Input", inside of which are products intended for further processing.
The Robot as a "strong fatigue-free arm". The machine is independent on the robot manufacturer (Kuka, ABB, Fanuc, Kawasaki..).
The Gripper, or a grip mechanism. It is designed according to the shape of the product which is handled. The emphasis is placed on accuracy and strength of grip without damaging the product surface.
The 3D camera SICK Ranger as "robot eyes", and a special software, that gives the intelligence to these eyes. The camera locates the product and navigates the robot successfully. Without collisions and as fast as possible.
Good investment
Blumenbecker offers an optimization of its robotic BIN PICKING workplace in accordance with customer's demands in order to guarantee the compatibility with all technologies used in existing production line. Related to this is of course the optimization of the entry costs when purchasing this machine.
Technical parameters
The typical scene of 1200x800x500 mm. Size of the scene can be customized to the product size. – in general, the size is limited by the reach of the robot arm.
Machine work cycle 12 – 25 seconds (dle tvaru výrobku – e.g. axial symmetry, distinction of rub-face sides etc.)
Communication between the PC and PLC via bus Ethernet, between PLC and the robot via standard field buses (Profinet, Profibus ..).
Our services
We take time for you
At the start of our relationship, we conduct an in-depth consultation to analyze your requirements of your pallitizing solution and identify any areas with potential for improvement. Next, we design and configure the robot palletizing station to meet your requirements while maximizing their value to you.
End-to-end design - more than hardware
We design not only your specific solution, but also its integration into your production process. This gives you planning certainty at an early stage. Equipped with the latest 3D design software, our engineers will expertly plan and simulate your robot workstations and robot cells.
We perform extensive feasibility tests on our equipment. That means we review the machine's estimated duty cycle in practice and verify that the handling process will not damage your product.
More than code
We program robots, sensors and PLCs with state-of-the-art software. This includes designing robot work cells in 3D as well as conducting offline simulations prior to production. With this approach, we can design and test production processes in a dynamic 3D environment, define and validate production process sequences with realistic behaviours and optimized cycle times and simulate the initial start-up of production systems. Manufacturing schemes are tested virtually in advance in order to eliminate design flaws early on and verify information flows between the PLC and the robots. All these preparations get your system up and running much sooner.
Our wide-ranging experience in robot programming gives us the tools to tackle complex automation challenges in industrial facilities around the globe.
Installation and dismantling
Assembly in the field of industrial robotics requires a high degree of expertise and flexibility. Our large team of skilled workers, masters, technicians and engineers takes care of your needs. If required, we also dismantle or replace your old systems.
End-to-end project management up to commissioning
We will assign you a project manager to coordinate your project from consultation to implementation and beyond. Our experts will install and commission your system under the project manager's supervision.
They monitor the start-up process, test availability and optimize processes to quickly integrate the equipment into your production process. Our services include shift supervision by our engineers as well as operator and maintenance technician training.
Standard robot grippers often aren't suited for special applications. Recognising this fact, Blumenbecker set up dedicated design departments early on to develop custom robot end effectors for customers. Today, we have designers working at several different locations to develop the grippers that specific tasks require.
We don't just design special robot end effectors; we build them, too. That makes us a one-stop shop for robot applications built from components carefully selected and designed to interoperate perfectly. We provide reliable 24/7 after-sales service for our grippers, too.
Keeping everything running smoothly
Our end-to-end service approach ensures high customer satisfaction and excellent machine performance. If you wish, we can provide comprehensive after-sales service for our robotics solutions all over the world. We not only perform routine maintenance, but also supply parts and accessories for mechanical and electrical systems and reprogram or modify machines as required.

Our skilled technicians perform routine maintenance on robots – whether we supplied and installed them or not. We act as a KUKA System Partner in this capacity, for example.
Our services include:
Regularly maintaining robots
Supplying and installing spare parts
Modifying robot designs and features
Reprogramming and retooling
Repairs that cannot be completed in the field will be performed at one of our well-equipped repair shops. We keep frequently needed spare parts in stock.
We can also help with any unforeseen problems with your robots. We respond swiftly and use tried-and-tested troubleshooting processes to get your production up and running again quickly.
We share our knowledge
We offer training and further education courses at training centres in Prague, Bratislava, Katowice, Kiev and Iserlohn to help our customers get the most out of their robotics solutions. Robots are installed in the classrooms to aid learning.
We teach well over 100 courses each year on topics such as:
General operator training for the installed system
Robot maintenance training
Robot programming training
Software training for Blumenbecker robot software
We keep the most important spare parts of the robots installed by us in stock and are able to deliver them to you within 24 hours. Through cooperation with our other divisions, we can also offer you qualified engineering and repair services for more complex tasks. Thanks to our numerous service points, one of our technicians is always close to you and guarantees the smooth functioning of your robot systems.
We offer you a tailor-made and vendor-neutral maintenance service and carry out any necessary repairs immediately.
Decided to modernise or overhaul your equipment? Count on our help for every project phase – from preliminary consulting to developing the project documentation to programming and execution.
We modernise old automation systems such as old Simatic S5 central systems by replacing them with new systems such as Simatic S7 with distributed modules. Equipment upgrades are in good hands with us, too.