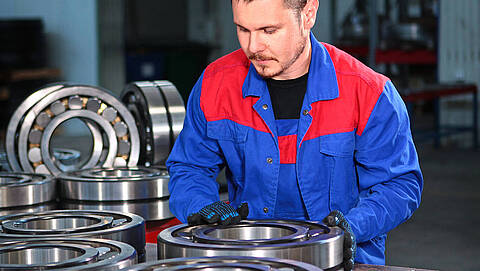 Rolling bearings for all needs
High quality
We are partners of the market leader SKF, which means we can offer you a full range of rolling bearings and linear technology, plus the necessary maintenance products, from anti-corrosion agents to shaft alignment units.
Our highly trained personnel can recode your bearings and, if required, inform you of readily available alternatives. Being partners of other manufacturers, we can readily provide you with other makes if you so require.
Sealed ball bearings
Whether for the do-it-yourselfer or for the professional: We offer roller bearings with different seals for the most diverse areas of application. Our range is diverse for countless usages. Our products offer you high functionality with a long service life according to the latest state of the art and at economic conditions. We are a partner of the market leader SKF and through partnerships with other manufacturers, we can also supply you with other brands.
We carry quality sealed ball bearings from the following manufacturers:
Product overview
Rolling bearings, housings and accessories
Products for dismounting, mounting and monitoring
Special housing bearings
Import bearings
Linear technology
Couplings
V-belts and toothed belts
Roller chains
Special chains
Industrial chains
Drive technology, belt drives, chain drives
Sealing technology
Our services
Blumenbecker offers a wide range of services for its roller bearings. Our most important service, though, is probably pre-sales consulting. We work with you to analyse individual requirements and develop the solutions that consider not just your technical needs but your budget as well. Our goal is always to supply the best-possible solution for you.
High storage capacity and fast delivery
We have a total display space of 11,000 sqm, spread between our eight locations throughout Germany, with a correspondingly high storage capacity. We keep a large number of articles for your daily needs in stock on the premises.
Our logistics centre in Beckum has a high storage capacity for 1.500 pallets, and is equipped with a highly modern packaging line and an automatic reordering system for the whole article range, ensuring that all of our branches enjoy a constant supply of parts. It also means that the stock available in our various branches is always up to date. Moreover, we offer a 24-hour service for 100,000 articles.
You want to buy roller bearings and other industrial supplies online?
With the Blumenbecker Webshop you have access to over 500,000 articles from the fields of occupational safety, factory equipment, power tools, hand tools, welding technology, measurement, industrial technology and garden and construction technology.
Once registered, you can order your products quickly and easily.