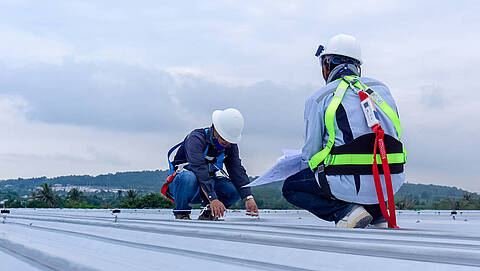 Personal protective equipment
Against falls from a height
Protect yourself and your employees
For work on the roof and at heights, the use of personal protective equipment (PPE) is mandatory. To ensure that you can rely on your PPE at all times, we test all protective equipment independently of the manufacturer in accordance with DGUV Rule 112-198/199 by our certified specialists. If we determine during the inspection that the safety of the personal protective equipment is no longer guaranteed, we can immediately offer you the necessary replacement equipment. So that you do not have any downtime for your employees and they always have a safe feeling when carrying out their work.
Our services
Blumenbecker offers a variety of services related to its wide range of solutions. One of the most important ones is in-depth consulting. We don't just view you as a customer but actively develop custom recommendations for you.
We work with you to analyse your situation and individual requirements and develop the solutions that consider not just your technical needs but your budget as well. Our goal is always to supply the best-possible solution for you.
We provide a tailor-made and manufacturer-independent maintenance service.
We examine and test your personal protective equipment in the prescribed intervals according to DGUV rules 112-198/199 and other regulations. This includes preparing the necessary documentation for you.
Our maintenance portal is a full-featured documentation system for holding all your reports, manuals or other personal protective equipment documents. With our system, you can store your documentation on certified servers, ensuring total regulatory compliance and reducing your liability while still having the freedom to plan inspections well in advance.
This system can be used for all the personal protective equipment at your company, regardless of who conducts your inspections. That gives you the kind of complete, detailed maintenance, inspection and repair history that you need for preventive maintenance of all of your personal protective equipments.