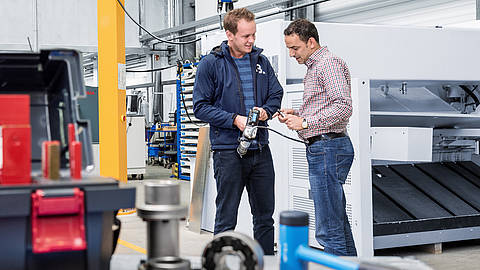 Full product range for industry and crafts
Our state of the art logistics centre in Beckum measures 3,500 square metres and offers a selection of 100,000 articles for industrial needs, ranging from electric tools to welding technology and transport equipment right up to cleaning equipment and spare parts.
The central warehouse supplies all Blumenbecker sites. This ensures that all commonly used products are always in stock. Moreover, we guarantee delivery of 25,000 articles from our catalogue within 24 hours.
In addition, we offer our clients comprehensive services ranging from practical consulting to on site assembly right up to after-sales support (on site service performed by Blumenbecker experts).
Reference project:
Provision of industrial supplies
As well as supplying industrial products Blumenbecker also provides a whole range of additional services, such as instrument calibration and tool regrinding and sharpening.
Read more
Three-brand strategy
Whatever your budget – we have the right product
So that our customers always enjoy the best quote possible based on their requirements and budgets, we pursue a clearly defined three-brand strategy:
High-quality label brand
Our FORMAT label represents an attractive, high-quality alternative to well-known industrial product names. FORMAT products are made by selected partners in the industry in accordance with our strict quality requirements. More and more professionals work with FORMAT products, because they comply with stringent quality demands and their products are more cost-effective as a result. The high quality standard is directed towards industry, craft trades and commercial users.
Private brands
When you have been in the business as long as we have, you know what your customers want: high quality with good value for money. That is why we have developed our own brand BLUMENBECKER, in collaboration with leading manufacturers. Quality without compromise – that is what characterises all of our products.