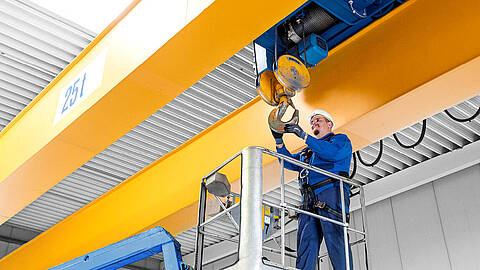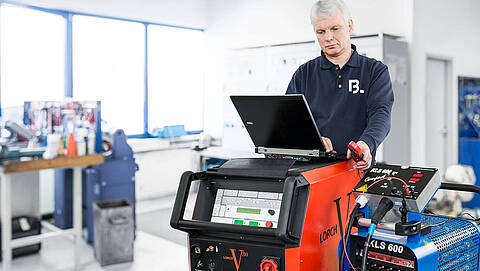 Industrial-Service
Complete protection for industrial equipment
Professional Maintenance
Your industrial machines and equipment require professional maintenance, inspections and servicing – that's why we make sure our employees are thoroughly qualified and fully supported by specially equipped service vehicles.

They will keep your motors, generators, pumps, cranes, doors, lifting platforms, floor conveyors, load-handling attachments and other equipment running smoothly at all times.

Time and again, our customers have highlighted the knowledge, versatility and commitment of our employees. There's a reason for that. We don't view ourselves as a mere contractor but actively develop custom strategies and suggest ways to preserve the value of your investments.

Our employees are all certified industry professionals who hold all necessary qualifications and regularly attend continuing education seminars in order to stay on top of the latest industry developments.
Digital industrial service
From the digital inspection service to the extensive online maintenance portal, we offer you everything from a single source.
Read more
Certified safety
Our experts conduct many of the tests required by law and can immediately perform all necessary repairs. Major repairs are done at our state-of-the-art repair shops. We use only the latest measurement instruments and methodologies. All our work is seamlessly documented, with a digital copy given to you when we are done. Key steps are documented as digital documents and uploaded to our maintenance portal if you wish so that you can instantly look up the maintenance histories of your machinery and equipment.
Our services
Blumenbecker offers a variety of services related to its wide range of solutions. One of the most important ones is in-depth consulting. We don't just view you as a customer but actively develop custom recommendations for you.
We work with you to analyse your situation and individual requirements and develop the solutions that consider not just your technical needs but your budget as well. Our goal is always to supply the best-possible solution for you.
We'll be at your side in a flash if your equipment stops running. Our skilled technicians can repair our own products as well as third-party gear. Also, thanks to our many service centres, our technicians are never far away and can keep your equipment running smoothly. With our 24-hour hotline, we can be at your site in short order if there's an emergency.
We examine and test your rolling stock maintenance equipment in the intervals prescribed by DGUV V3 and other regulations. This includes preparing the necessary documentation for you.
We provide tailor-made, manufacturer-agnostic maintenance for your rolling stock maintenance equipment and immediately make any repairs that may be necessary.
Maintenance portal: one place for everything
Blumenbecker Industrial Service 4.0 provides instant, current visibility into your equipment's maintenance and inspection status, upcoming work and related documents, all at the push of a button.

Our technicians attach stickers onto your equipment that contain an RFID chip and are labelled with a bar code and QR code. The stickers are highly resistant to dust, extreme temperatures and dirt. By scanning the chip or bar code, technicians can immediately pull up on their tablet all the information about a particular item of equipment.

Once an item has been clearly identified, technicians can then proceed with the inspection using a specified check list that meets all manufacturer requirements and legal provisions. The list can be updated to reflect current requirements at any time.
You receive the inspection report as soon as the inspection is done. We also offer a documentation system to hold all your reports, manuals or other equipment documents. With our system, you can store your documentation on certified servers, ensuring total regulatory compliance and reducing your liability while still having the freedom to plan inspections well in advance. This system can be used for all the equipment at your company, regardless of who conducts your inspections. That gives you the kind of complete, detailed maintenance, inspection and repair history that you need for preventive maintenance of all of your equipment.

We offer other end-to-end digital services, too. Contact us to learn more!
Because prevention beats downtime
Preventive maintenance is the secret to avoiding unplanned downtime. It allows you to do all your repairs and maintenance before breakdowns even happen. Sensors installed in industrial doors or electrical machinery regularly send status data that, once analysed, can help to identify and prevent impending equipment failures.

Customers can access the data in the Blumenbecker maintenance portal and analyse it from different perspectives at any time. If problems start to manifest themselves, appropriate action can be taken in time to prevent a breakdown or extended system downtime.

Condition monitoring of low-voltage motors
The ABB Ability™ Smart Sensor supplies data on vibration, temperature, overload and other operating and state parameters. The data is analysed with specially developed software in order to inform the plant operator's maintenance planning. The solution helps to reduce downtime by as much as 70 percent, extend motor lifetimes by up to 30 percent and reduce energy consumption by up to 10 percent.
The ABB Ability™ Smart Sensor is mounted directly on the casings of low-voltage motors. No elaborate wiring is needed. It transfers information about the motor's condition by smartphone to a secure cloud-based server.

Condition monitoring of industrial doors
We have partnered with Marantec to offer a sensor-based condition monitoring system for industrial doors. This solution lets you identify imminent problems in time and respond before the door fails.
Testing of switchgears
We can test your switchgear for compliance with all relevant regulations, too. In addition, we will analyse and certify your industry networks and inspect your equipment using thermographic scanners.
Testing of airport ground support equipment and rolling stock technology
One of our areas of expertise is the inspection, maintenance and repair of rolling stock maintenance gear and ground support equipment. If you wish, we can set up dedicated workshops at your airport to provide constant testing and maintenance.
Retrofitting of industrial robots
Our highly skilled team can service and repair electrical and mechanical sub-systems in all brands of industrial robots at our in-house repair shop.