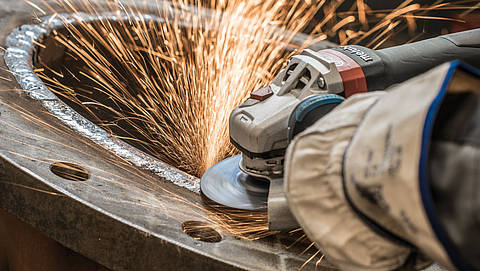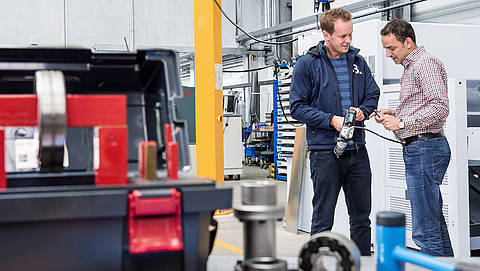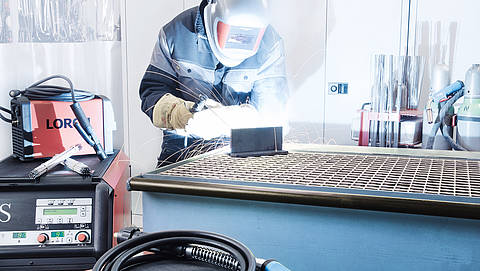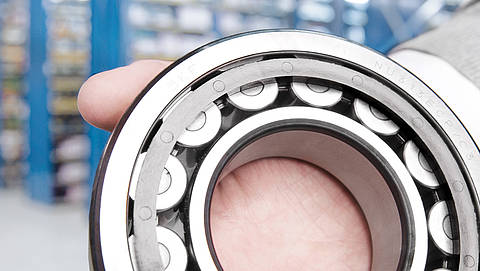 We deliver more than just products
Anyone can sell products from a catalogue. We believe wholesaling is about more than supplying articles, though. That's why we view ourselves an industrial service provider with a full-service promise.
Our state-of-the-art, 3,500 square meter logistics centre holds up to 100,000 items ranging from power tools to welding gear and material handling equipment to cleaning systems and spare parts. With our efficient logistics, deep and extensive catalogue and careful selection of additional suppliers, we can quickly and smoothly supply customers with products like no other company.
Capital goods and services
We are a system integrator for machine tools and machining equipment. We make and supply ground support equipment including boarding steps, dollies or baggage trailers as well as rolling stock maintenance gear. Our welding centre of excellence is available for customer training and material weld tests. Come to us for crane operator classes and robot training courses for your employees. Our staff can support your company with a full-service workwear solution and automatically supply workstations with tools and materials.
With Blumenbecker, you get more than just the products. You also get a full-featured repair and spare parts service.
E-procurement
We have provided our customers with e-procurement for years. In addition, we have numerous branch offices and outside sales teams that keep us in close personal contact with customers. We pride ourselves on our ability to develop solutions tailored to your exact production requirements in close consultation with you.
Industrial Supply
Our state of the art logistics centre in Beckum measures 3,500 square metres and offers a selection of 100,000 articles for industrial needs, ranging from electric tools to welding technology and transport equipment right up to cleaning equipment and spare parts.
Capital Goods
Come to us for durable capital goods. We'll support you from initial consultation to design to after-sales service.
Electrical Components
We're a knowledgeable provider of all types of electrical components – from complete electric motors to frequency converters to control cabinet components. Best of all, we have the strong long-standing supplier relationships needed to get all our products to you in very little time.
C-Parts Management
C-parts are of low value, but cause high costs in the purchasing process. Therefore, C-parts management for office materials, occupational safety clothing, cleaning articles or tools, for example, is an easy way to reduce costs.
Capital goods
Baggage and freight trailers