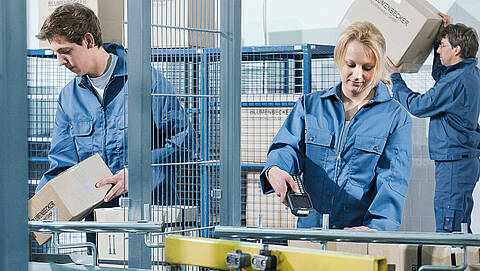 Blumenbecker Industriebedarf GmbH
About us
Blumenbecker Industriebedarf is a classical full-range supplier, with specialised departments for industrial customers, small craft businesses and ambitious DIYers. Demand for our products comes primarily from the metalworking and metal processing industries, plus all areas of plant repair and maintenance.
Clearly defined sales areas in North Rhine-Westphalia and the whole of Germany are designed to support our targeted marketing strategy. We believe that our decentralised approach to sales and distribution, with named contact partners both in the office and in our field organisation, gives us a clear competitive advantage. For us, a centralised call centre or customer service system is not an option.
A workforce of over 100 people, working in-house and in the field organisation, is available to handle the daily procurement requirements of our highly valued customers. Today, the customers tend to purchase solutions, not simply products. Their need is always to have the right items, in the right quantity, at the right time and in the right place. With our team of specialists - either for the products themselves or their distribution - we have all the capabilities needed to meet these requirements.
0-error goal: And thanks to unique identification of the goods with electronic codes, we come as near as possible to consistently achieving the 0-error goal.
Wide ranging services
Centred around the goods, we now also offer a wide range of services. These include, for instance, the ability to meet all requirements in the e-business field, including stock administration and goods issue systems, KanBan supply, order picking and packing, applications technology solutions, product demonstrations, product hire service, repair services, etc.
In the E-PROCUREMENT sector, the primary focus is on process optimisation for the customers. Under our complete supply strategy, we act as a centralised supplier, eliminating your need to deal with a large number of individual suppliers. This offers the potential for considerable savings in the field of supplier relations, and also for harmonisation at article level. And aside from the processes, the pooling of demand also enables additional savings to be generated on the procurement side. Purchase orders / order confirmations / dispatch notices are exchanged electronically via edi.
In many cases, we also handle the master data management on behalf of our customers or show the customers' own article numbers on our delivery notes, making identification not only faster for the customer, but above all simpler and more reliable.
Logistics centre measures 3,500 square metres
Our state of the art logistics centre in Beckum measures 3,500 square metres and offers a selection of 500,000 articles for industrial needs, ranging from electric tools to welding technology and transport equipment right up to cleaning equipment and spare parts.
The logistics centre supplies all Blumenbecker sites. This ensures that all commonly used products are always in stock. Moreover, we guarantee delivery of 25,000 articles from our catalogue within 24 hours.
In addition, we offer our clients comprehensive services ranging from practical consulting to on site assembly right up to after-sales support (on site service performed by Blumenbecker experts).
»By discussing your needs with you, we devise solutions that precisely meet your production requirements.«
Three brand strategy
It is our aspiration to always have the market leader among our product range. In many areas, we pursue a clear 3-brand strategy. Alongside the leading manufacturer brand, we also offer our Format label brand and our BLUMENBECKER / WEST private brand products. As a result, we are able to cover all our customers' product needs and quality expectations.
Customers are supplied through two possible channels: first, from our own central warehouse, from where over 600 deliveries are dispatched daily either by UPS, on board our own fleet of vehicles, or by other carriers.
And secondly, we have the possibility to send over 80,000 articles direct to our end-customers from the "electronic Logistics Centre", or eLC for short, of our cooperation partner. This can be viewed as an additional distribution depot, with the possibility to check availability in real time via the Internet.
We decide on the basis of our customers' requirements how to get the ordered goods to the place where they are needed in the speediest possible way.
Very nearly 5,000 customers already place their trust in us.
Opening hours of the locations
59269 Beckum
Monday to Friday: 7.45 am to 4.45 pm
Saturday: 9.00 am to 12.00 pm
58099 Hagen
Monday to Thursday: 7.30 am to 4.30 pm
Friday: 7.30 am to 3.00 pm
58636 Iserlohn
Monday to Friday: 8.00 am to 4.45 pm
Saturday: 9.00 am to 12.00 pm
59557 Lippstadt
Monday to Friday: 7.30 am to 4.45 pm
Saturday: 8.30 am to 12.00 pm
81669 München
Monday to Friday: 8.00 am to 5.00 pm
48163 Münster
Monday to Friday: 8.00 am to 5.00 pm
46149 Oberhausen
Monday to Friday: 7.00 am to 5.00 pm
33378 Rheda-Wiedenbrück
Monday to Friday: 7.30 am to 5.00 pm
59494 Soest
Monday to Friday: 7.30 am to 5.15 pm
Saturday: 9.00 am to 12.00 am
Our certificates and partner
Webshop
Buy your industrial supplies online. We can offer you more than 500,000 articles from well-known manufacturers such as Bosch, Gedore, Hazet, Kärcher, Metabo, Mitutoyo and many more. Register now.
Basic data
Registered office: Beckum
Founded: 01.01.2001
Trade register: Local Court Münster HRB 7020
Equity capital: 1.500.000 Euro
VAT ID: DE 214 670 936
Managing Director:
Dipl.-Kfm. Richard Mayer, Olaf Lingnau
Address:
Blumenbecker Industriebedarf GmbH
Sudhoferweg 99-107
59269 Beckum
T: +49 2521 8406-158
F: +49 2521 8406-188