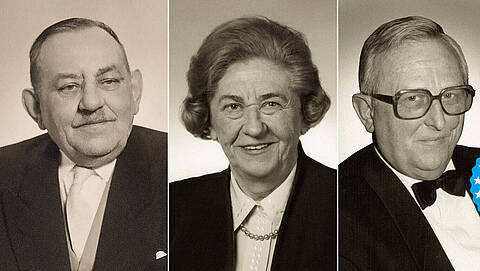 4 like 4 family members
The founding family and their personal characteristics
The Blumenbecker Group is an industrial service provider and - of course - a family-owned company. The way from a small armature winding company to an international group of companies was paved by the founding family.
Who was the founder Theodor Blumenbecker?
What character traits distinguished his children Marianne and Bernhard Blumenbecker, who were pioneers in the development of the company? What values are important to majority shareholder Astrid Blumenbecker and what is the road ahead?
Theodor Blumenbecker:
"The customer is king!"
Theodor Blumenbecker was there for his customers - always and at any time. That also included holidays. When the bells of St. Stephen's Church in Beckum broke down on Christmas Eve and he was asked for help, he was there. Wrapped in a potato sack, the bell was taken to the workshop, repaired and then carried up again by him. The Christmas presents in Blumenbecker's house, however, had to wait for the industrious helper.
Marianne Blumenbecker -
the goal-oriented figure juggler
"As a young woman, she had to fight her way through a lot of resistance from all sides and that certainly influenced her a lot," says Astrid Blumenbecker about her aunt. Marianne Blumenbecker always went her own way - no matter how many obstacles there were. She was one of the few women at the time to graduate with a degree in business administration, and she dedicated herself to new fields of business, such as switch cabinet construction. She always kept a close eye on the figures. Frugality was her hallmark. Marianne Blumenbecker knew how to assert herself, was dominant and could raise her voice when mistakes were made. But she was also fair and social.
Bernhard Blumenbecker -
the humane and thoughtful businessman
Bernhard Blumenbecker was absolutely against waste. Late at night, he went through the offices to switch off the lights. But he was also generous. "If overtime had to be worked in the workshop, he often drove by Höpker - the Beckum snack bar - and got sausages for everyone who had to work," Astrid Blumenbecker reports. For the employees' wives, he bought flowers for Mother's Day and had sweets ready for the children.
On holiday, a black work suitcase was his constant companion. He even checked order documents on the beach. He had got the suitcase and the custom from his father.
Astrid Blumenbecker:
"The company is like a member of the family."
From an early age, Astrid Blumenbecker was implanted with the values of tradition and responsibility. "I unconsciously realised at a young age what was important for a family-owned company. So responsibility for the employees was always a very high value in our family," she explains. Decisions in the company had an impact on the family and vice versa. When her father and aunt were coming up to retirement age, she was still too young to take over. Together, the decision was made at that time to seek non-family experts for the key operational positions and to return to the shareholder role as a family. Since then she has been active in Blumenbecker GmbH und Co. KG and has the future way of the Blumenbecker Group firmly in her sights: "My family, the foundation and I are working to ensure that the company Blumenbecker continues successfully as an independent family business in the spirit of my father and my aunt."