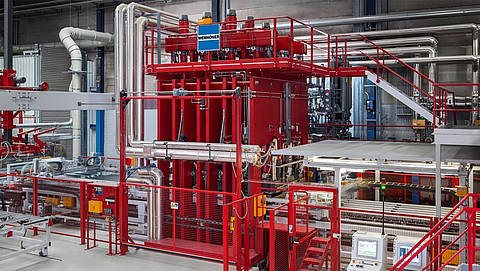 Development and implementation of automation and energy distribution systems for particle board laminating line
Our client:
Swisspan by Sorbes LLC Sorbes Ukraine
The Sorbes Group is a Swiss-based group of companies with activities mainly in Estonia and the Ukraine. There, particle boards are produced and laminated with a variety of decorative surfaces. Since its founding in 2003, the Group has grown steadily and, with its brands Swisspan (in the Ukraine) and Repo (in Estonia), has become a fixture in the respective markets.
Benefits
Due to the high demand, a fast commissioning of the system was desiredby Swisspan. Although some suppliers of components had delivery problems, Blumenbecker kept to the tight schedule. We also developed a simple operating solution using state-of-the-art tools and in constant dialogue with the operating personnel. The result: Swisspan was already able to produce market-ready products during the start-up phase of the plant.
Task
For a new melamine coating line for particle boards, an automation concept and an energy distribution system were developed by Blumenbecker and then implemented. Swisspan manufactures around 650,000 particle boards with dimensions of up to 2,750 x 1,830 mm per year on the line. Since a total of more than 70 different products are manufactured, there was also a process optimization for each board type and the different coating types and qualities. To minimize downtime, the entire system has been equipped with a range of diagnostic tools. Among other things, the project included seven PLCs and eighty drives.