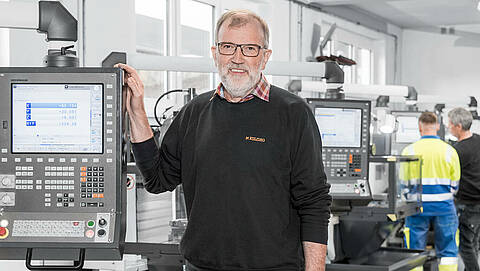 Special machines for training centres
Seven CNC machines
CNC machining and manual work on one machine? It's possible.
Blumenbecker equips Kolping BIldungszentren Südwestfalen with special machines for education and training.
The Kolping-Bildungszentren Südwestfalen have been active in education for more than 40 years. The range of services offered at the Olsberg location includes industry-wide training and further education for companies in the region, as well as qualification and retraining measures on behalf of the Employment Agency and the Job Centre. Individuals use the training center, too, in order to qualify in the fields of metal, plastic and electrical engineering. In total, 170 people visit the Olsberg training centre every year.
Blumenbecker Industriebedarf GmbH has already been supplying the education service provider with tools and consumables since 2011. Now the Olsberg site with its newly built metal workshop was to be made fit for the digital future. To do this, the training centre needed six CNC milling machines, one CNC lathe and a tool presetting device.
The special feature of this order was that the machines should be able to be operated both: electronically and manually. According to Herbert Milisavljevic, Head of Metal, Electronics and Plastics at Kolping and site manager in Olsberg, this is important for the training: "Most of our industrial cus-tomers only own CNC machines. However, the trainees also have to turn and mill con-ventionally in their final examination. To learn exactly that, the companies send them to us." There were also special specifications from the customer for the machine controls.
At the Blumenbecker Machine Center in Münster, the education service provider was able to test lathes and milling machines from various manufacturers. After a joint visit to a reference customer, the ideal configurations were finally determined.
One component of the order was the delivery of the machines to the installation site. On the way there, a long, sloping access road with a low entrance height had to be mastered as well as the lateral unloading of the machines weighing a total of 14 tons outside the hall. Then heavy-duty rollers were used to move the machines over various steps. The machine tools and the tool presetting device were then immediately put into operation. "Cooperation could not be easier. I have only one contact person for all manufacturers and can get custom-made products from a single source", says Herbert Milisavljevic, pleased with the successful project.