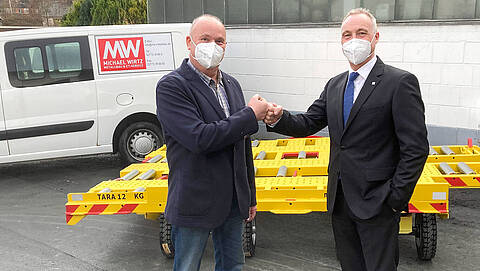 Blumenbecker acquires
MW Metallbau & ET-Service in Haiger
New production site for
airport ground support equipment
With effect as of January 1, 2022, Blumenbecker Technik GmbH will acquire the business activities of the long-established company in Haiger, Germany. The company MW Metallbau & ET-Service is a specialist in the steel construction production of airport ground support equipment. Currently, 20 employees work for the owner-managed company.
The company's founder Michael Wirtz will continue to work for Blumenbecker for some time as branch manager of the new location. After that he will turn over the operational business step by step to Blumenbecker in order to take a well-deserved retirement. "It is important to me that the company continues successfully after I leave. I am pleased to be able to place my company and my employees in such good hands," says Michael Wirtz, explaining his decision.
Ralf Herzog, Managing Director of Blumenbecker Technik GmbH, is also glad - especially about the expansion of the business segment: "By acquiring this steel construction company, we are expanding the competence of our airport ground support equipment business segment even further. In particular, the production capacity we have now gained, but also better control over the quality and delivery times of the dollies & baggage trolleys produced, will benefit our customers."
Blumenbecker Technik GmbH has been an expert in the production as well as maintenance and testing of all types of airport ground support equipment, such as baggage and cargo trailers, dollies, passenger steps and maintenance steps, for more than 25 years. The extensive product portfolio and range of services also includes its own maintenance stations at airports.