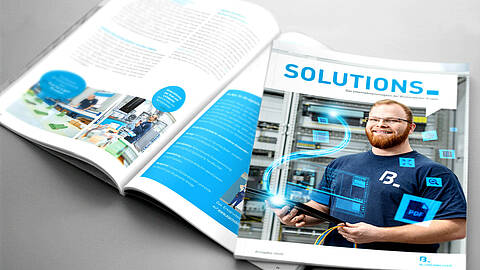 SOLUTIONS 2020
The company magazine of the Blumenbecker Group
Welcome to the third edition
Those who know us know that we at Blumenbecker like to share knowledge. And we especially like sharing it with our customers. Our aim is to find individual answers to complex challenges. We believe that this can only be done by working closely together in a spirit of mutual trust and understanding. This is our way of developing solutions that make the difference. Take, for example, the robotics system developed for Tatramat, the Slovakian subsidiary of the Stiebel Eltron Group, that has provided an efficient and safe solution for a complicated new welding process. Or our "smart weightlifters", which are in effect nine crane systems designed to perform highly complex operations for the series production of acid-resistant battery boxes, technology that will provide the technical basis for a Europe-wide expansion drive. Sometimes it seems that with Blumenbecker the wonders never cease.
Project work with and on behalf of our customers frequently takes us beyond the borders of Europe – to the USA, to India and even to China. And so it was that in 2003, in a move designed to support a major customer of long standing, we set up our first China-based company in the city of Shanghai. How this became a success story, what part the city of Shanghai played in it and why customers trust in quality "made by Blumenbecker" can be read in this issue.
When it comes to treading new paths, the home country is still very much at the heart of things. And if you want to know what paperless switchgear production 4.0 is all about you need look no further than the Blumenbecker Automatisierungstechnik headquarters in Beckum.
We hope that these insights into the world of Blumenbecker will be a source of inspiration. Enjoy the read!

Olaf Lingnau, Richard Mayer and Harald Golombek
Managing Directors
The genius of digital
The switchgear production uses the possibilities of digitalisation and moves its work from paper to a new software.
Read more
Smart weightlifters
In this project for the production of acid-resistant battery boxes, Blumenbecker was responsible for the crane systems.
Read more
On top of the world – Shanghai: China's boom town
Shanghai has become a metropolis in the last decades. Learn about the unique characteristics of the city.
Read more
Where high-speed meets history
With Blumenbecker Shanghai Automation System and Blumenbecker Qingdao Industry Service, China is also part of our international group of companies.
Read more