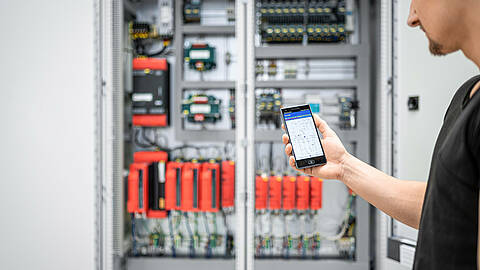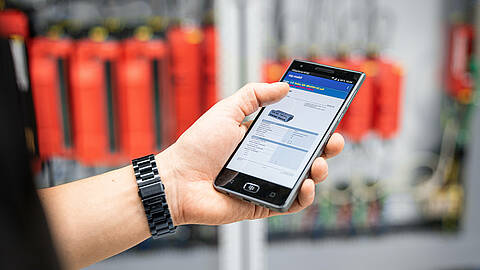 EIP.mobile
App for the digital plant documentation
With EIP.mobile access to the plant documentation at any time
Faults and downtimes of machines and plants mean turnover loss for the operator. In the event of a fault, the maintenance staff in particular is under pressure and must quickly find a solution for the problem. It is helpful here to be able to have access to the complete plant documentation. However, searching in the circuit diagram, the parts list or the correct manual is very time-consuming, as the documents are usually stored on paper in different folders. Before the real problem solution can be started, maintenance personnel must search in the paper folders to find the right documents.
This is now history! With EIP.mobile, Blumenbecker has developed an app that gives access to the plant documentation at any time and any place. Using the device designation, plant components of a system can be unequivocally retrieved and easily viewed in a digital format. From there, the user can access the entire assembly group, its components and the associated handbooks. In addition, the circuit diagram, assembly diagram or layout plan is displayed directly in EIP.mobile.
Technical features
Access to parts lists, construction plans, circuit diagrams, layout plans, handbooks
Fast search function via device designations or QR code
Direct contact possibility to deposited contact persons
Order of necessary spare parts
Benefits
Reduction of the relevant information search for troubleshooting by up to 90 % depending on the initial situation
All information of the plant directly available
No infrastructure necessary thanks to offline availability
Native data basis - even old systems can be integrated
Detailed plant information is transferred to emails
Direct assignment of spare parts to the plant
Data security through dynamic encryption
EIP.mobile offers users various added values
For assembly
The mobile construction site office.
Find devices directly in the assembly plan

No search in the circuit diagram

One version status for all involved parties
For commissioning
Documentation in paper form becomes history.
Access to the digitized handbooks at any time

No manual data collection

Get a better and faster overview of the plant
For maintenance
Finding instead of searching.
Switch from a assembly group directly to the circuit diagram

All handbooks in the correct versions immediately available

Identify spare parts without errors and order immediately
For the management
Digitalisation for you and your customers.
Reduced downtimes thanks to finding instead of searching
Higher motivation of maintenance staff by using digital technology
Simple overview of the entire plant
Can be integrated into existing and new installations
Manufacturer-independent usable - one tool for all
Increase of customer satisfaction - added value in the supply chain