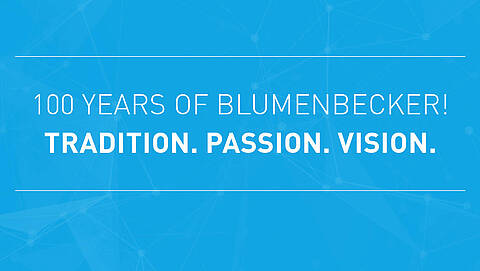 100 years of Blumenbecker
From an armature winding firm to an international group of companies
Tradition. Passion. Vision.
In 100 years Blumenbecker has developed from a craftsman's business into an internationally active group of companies that is now active in three different areas of competence.
Milestones of the history
Take a journey through the history. From the foundation of the company through its expansion and internationalisation to the year 2022. Immerse yourself in the Blumenbecker family business.
To the journey
Anniversary project
Talent Company
The sponsorship of children and young people was already important to our company founder. In order to continue this sustainable support, we are creating a room for career orientation, a so-called Talent Company, in the secondary school in Beckum together with the Strahlemann Stiftung.
The official opening of the Talent Company in Beckum was on 31 August 2022.