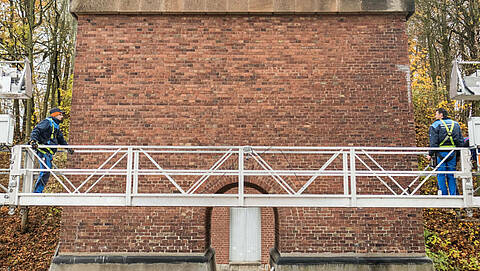 Maintenance work on
high-level maintenance systems
Göltzschtal Viaduct wonderfully safe thanks to Blumenbecker
The Göltzschtal Viaduct in the Vogtland district of Saxony is the largest brick bridge in the world. It is also called the wonder of the Göltzsch valley. The bridge connects the railroad line between Leipzig and Hof in Vogtland. It has been in service for over 170 years, which is why regular maintenance and repairs are necessary. Thomas Kolitsch, head of the Blumenbecker Technical Services department, and his team ensure that everything runs with the utmost safety when working at dizzying heights.
Every day, 50 trains, each carrying 2,000 tonnes, cross the bridge, but so far the heavy loads have not been able to damage the bridge. Ulrich Schäfer, the bridge master of DB Netz AG and his team are constantly on site, inspecting the monument and carrying out structural repairs. Since 2012, Blumenbecker has been maintaining the high-level maintenance systems on the Göltzschtal viaduct. A demanding task. The working gondolas are suspended from rail systems on the east and west sides of the bridge.
The special combination of cable system, hydraulic control and electronic components makes it possible to reach even the most inaccessible parts of the bridge. Blumenbecker service technicians maintain the high-level maintenance systems twice a year. The entire technology including the cable system has to be removed, checked and reinstalled. They have to check and retighten no fewer than 2,600 screws by hand.
"Working with Blumenbecker is a stroke of luck for us," says Schäfer happily. Above all, he appreciates the fact that he is dealing with experts who have a thorough knowledge of the complex subject matter and can develop convincing solutions for all concerns.