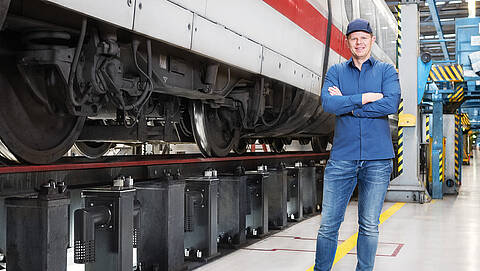 Jumping jack
A pillar in railway technology
Blumenbecker special solution for the new measuring section at the ICE Munich plant
The total mileage of a train is around 1 million kilometres. A long distance over which rail passengers should enjoy absolute safety. There are eight depots in Germany to closely monitor the 230 ICEs of Deutsche Bahn.
At the ICE plant in Munich, the deflection of the test tracks had to be reduced to the minimum required by DIN regulations. Sander is project manager at DB Fernverkehr AG: » The precise adjustment work needed between the railcar body and the bogie can only be undertaken when you have an absolutely level track. « explains Andreas Sander, project manager at DB Fernverkehr AG. When surveying the existing tracks, it was found that twice as many supports would be needed as before.
However, the resulting reduction in the prop spacing interfered with the existing ventilation technology for the working pit beneath the track. This was a particular challenge for which Blumenbecker Technik had a special solution ready. "For another Deutsche Bahn project, we had already developed props that could effectively absorb the resonance generated by the trainswhile at the same time directing used air out of the pit," reports Hendrik Henicke, Project Manager Railway Technology, not without pride. The support in the railway technology was quickly christened a "jumping jack" because it is visually reminiscent of one.
In October 2018, 102 new props, 71 of them "jumping jacks," were installed in Munich, and the old tracks were relaid and configured. Subsequently, the calibration was carried out in cooperation with the Deutsche Bahn calibration centre. After only four weeks of reconstruction, the first high-speed train could be run onto the new test track for an inspection.