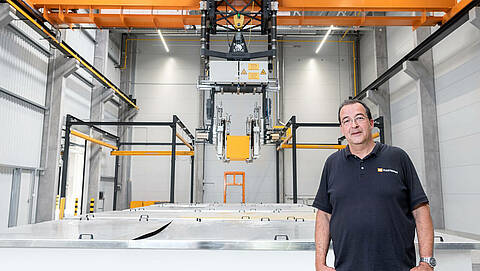 Construction and installation of nine crane systems
Successful commissioning in Czech Republic
AIB Kunstmann produces up to 600 battery trays per day at its site in Most, Czech Republic. Also there - smart weightlifter from Blumenbecker.
Blumenbecker has been on board with AIB Kunstmann since 2014 when it comes to expansion, modernisation and the supply of spare parts. "Blumenbecker is a guarantee of success for us. From engineering know-how to service and personal commitment, everything fits together perfectly," says Ralf Frigger, project manager Most, plant manager Brilon and quality manager at AIB Kunstmann.
To develop solutions for all crane work in Most, Blumenbecker project manager Michael Hamm and his team started work. The result: new crane systems from goods receiving to goods dispatch to unload trucks, store and retrieve sheet metal, load production machines and transport workpieces. To prevent the load from swinging, a special sway control system was developed, which allows the sheets to be placed precisely on the cutting table.
The technical highlight of the production is the special crane for powder coating. The plant manager and his design engineer developed a special tongs that can grip and move up to eight troughs simultaneously. The special feature: Both the crane and tongs can be moved separately by remote control.