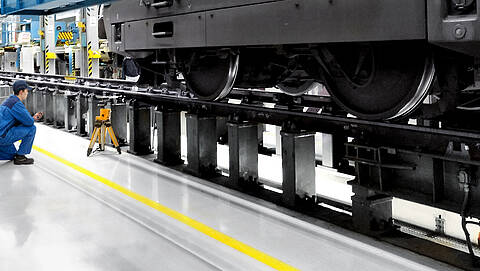 Innovation for elevated track systems
Pit stop with jumping jacks
New measurement track for the ICE engineering workshops in Munich
The new 200 metre-long measurement track at the ICE (or InterCityExpress) workshops in Munich, which came into service in November 2018, is fitted with a series of special props developed by Blumenbecker Technik GmbH. Dubbed › jumping jacks ‹, they not only ensure highly accurate track calibration to a tenth of a millimetre but also provide ventilation for the track inspection pit.
Five times from Munich to Hamburg via Berlin and back again. Then it's time for an inspection. Each ICE train has a scheduled pit stop every 8,000 kilometres and other check-ups are also carried out on a regular basis. The purpose of this strict inspection routine is to ensure absolute safety for travelling passengers over the train's operating lifetime of some one million kilometres. Germany has eight engineering workshops whose job is to keep Deutsche Bahn's 230 or so highspeed trains rolling, and the ICE workshops in Munich is one of them. Behind the imposing glass frontage, work goes on around the clock seven days a week and this fast turnaround means that trains are quickly back out on the rails.
A 200 metre-long test track for ICEs
When it is time for an inspection, the entire ICE train is driven into the 450 metre-long workshop where it is serviced on three levels simultaneously: beneath the train, at boarding height and in the roof zone. Adjustment work on the railcar bodies is now carried out on the new 200 metre-long measurement track that was installed in November 2018 and which is also suitable for the new ICE4 models. This meant rebuilding the old test track. The aim was to create an absolutely flat railtrack with a height tolerance of less than 0.5 millimetres. Andreas Sander is project manager at DB Fernverkehr AG: "The precise adjustment work needed between the railcar body and the bogie can only be undertaken when you have an absolutely level track." The company assigned this important task to Blumenbecker Technik.
Our customer says:

»Our successful partnership with Blumenbecker now goes back some ten years.«
Special solution called for
A survey of the existing tracks showed that twice as many supports would be needed as before in order to reduce track deflection to the minimum level laid down in railway vehicle specification DIN 27202-10. However, the resulting reduction in the prop spacing interfered with the existing ventilation technology for the 200 metre-long working pit beneath the track. "A special solution was called for", says Hendrik Henicke, project manager at Blumenbecker Technik, "and here we were able to use something that we first developed for another project undertaken for Deutsche Bahn: props that could effectively absorb the resonance generated by the trains while at the same time directing used air out of the pit." The supports, which are similar in appearance to a child's plaything, were soon dubbed › jumping jacks ‹.
Upgrade and calibration
in just four weeks
Work at the Munich site started in October: 102 new props, including 71 › jumping jacks ‹, were installed and the old tracks were relaid and configured. "This was a tough job that meant undoing 7,500 or so M24x120 bolts and torquing them back up to 1,000 Nm", recalls Henicke. But the effort was worth it. The project was completed without any corrections at all. The structure was calibrated in conjunction with the Deutsche Bahn calibration centre. After a rebuild time of just four weeks the first high-speed train could be run onto the new test track for an inspection. "We are delighted with how quickly and smoothly the upgrade went, as each unused track costs us a lot of money. With the cooperation of Hendrik Henicke we were in fact able to put the test track into service one day earlier than planned."