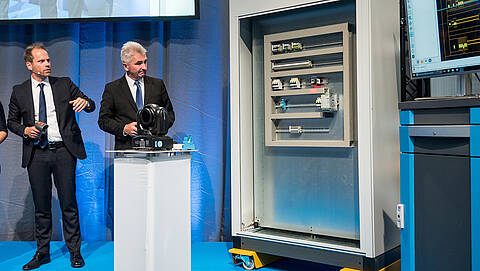 Economics Minister Pinkwart pays a fact-finding visit to Blumenbecker
When NRW Minister of Economic Affairs Andreas Pinkwart goes on a fact-finding visit, those companies that are driving digital transformation in NRW will find themselves high on his agenda. The Minister had industrial services provider Blumenbecker on his itinerary in order to learn more about the firm's ongoing digitisation projects.
The rain had stopped and the sun was shining through the grey clouds when Dr Pinkwart arrived at the Blumenbecker head office in Beckum. And things got even more enlightening for the NRW Minister during the subsequent podium discussion. It saw representatives from the Blumenbecker Group engage the Minister in talks on the digital challenges and tasks that would have to be tackled and overcome by the political and economic partners in NRW. Dr Pinkwart and the 60 or so invited guests from politics and business also had an opportunity to immerse themselves in the digital world of Blumenbecker.
Digital solutions – from airport logistics to switchgear production
Current digitisation projects were presented in three short video films showing new digital solutions that have been developed in the areas of airport logistics, industry services and switchgear production. These systems, which are sure to provide a beneficial outcome for customers, are to be incorporated as part of the Industry 4.0 initiative. Minister Pinkwart then participated in a › live ‹ podium test designed to demonstrate the practical application of › digitised process steps for optimised automated switchgear manufacturing ‹.
The spirit of digital innovation is setting an example for the whole region
Dr Pinkwart seemed impressed by the spirit of innovation being shown by Blumenbecker in this area, which he said set an example for the entire region. He then went on to commend the company's efforts: "This is further evidence of the important role being played by mid-sized companies in supporting the Ministry in its drive towards greater digitisation of the NRW economy."
Smart Dolly
The Smart Dolly is a digital tracking system for airport ground equipment that makes it much easier and cheaper to operate and maintain airside dollies.
Read more
Production-line digitisation
Production-line digitisation – Software- supported manufacturing and digital linkup of all production data make processes simpler, faster and more reliable.
Read more
Industrial Service 4.0
Industrial Service 4.0 facilitates the fully digitised identification, testing and documentation of operating equipment from any manufacturer, everything from cranes to desk lamps.
Read more