A city for a second glance.
Katowice will never win any beauty competitions. Compared with neighbouring Krakow, the town is something of a newcomer. There are no 700 year-old buildings or romantic market squares. And yet Katowice is still worth a visit, for while at first glance it may appear fairly unattractive, it can on closer inspection reveal a wealth of hidden charms.

Katowice is a young town. It was founded in the 19th century and was granted town status in 1865. Coal and steel contributed to its rapid growth. It now has a population of 300,000 and is the largest city in Silesia. In recent years the former working-class town has awoken from its post-industrial slumber and Katowice is now one of the most innovative, culturally dynamic and economically active regions in all of Poland.
Photos: ©Wojciech Radwanski
Worth seeing: the miners' settlement Nikiszowiec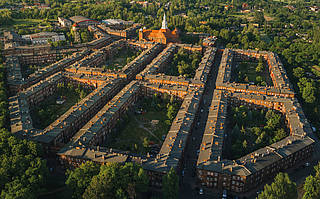 Insider Tips
Katowice Modernism
Katowice has its own architectural brand: Katowice modern architecture. If you walk through the city and keep your eyes open, you will soon see this plain and unfussy style all over the place. The Polish architects were very much inspired by Western innovation. One example of this is the 1934 › skyscraper ‹ created by Tadeusz Kozlowski, a 14-storey steel-frame structure. It was at the time the tallest building in Poland and one of the highest in all Europe. It now stands surrounded by a number of Art Nouveau blocks.
The Nikiszowiec miner's settlement
Definitely worth a visit is the Nikiszowiec miner's settlement. This was built in the early years of the 20th century as a residential district for employees at the Giesche mine. The nine large accommodation blocks in red brick are grouped around inner courtyards. A series of doors and gateways provides an uninterrupted view of the site and its layout. Close by lies the old colliery house that was part of the Wilson shaft. This massive building now houses an outstanding gallery of contemporary art.
Culture in its many facets
Art and culture play a huge part in the life of Katowice today. The city is home to several orchestras and an academy of music. It also has an active jazz scene with live performances regularly held at the many clubs dotted around town. Culinary offerings range from traditional Silesian to more exotic dishes. And there are coffee shops aplenty too. From nostalgic patisseries and modern espresso bars to hippie-style cafes, there is something to suit all tastes.
Discover Katowice
Anyone wishing to discover Katowice can get there quickly and easily by plane. City centre hotels are inexpensive and visitors can communicate in English and occasionally in German too. For more details visit www.inyourpocket.com, where you can download a handy travel guide with all the key information.
"The Silesian Museum (Muzeum Śląskie), which occupies a former mine site, combines regional identity with current architecture and houses a number of exhibitions, including Silesian history, modern art and paintings from young Polish artists. Address: ul. T. Dobrowolskiego 1"
"SARP - the club-art-gallery of the Association of Polish Architects - is a cutting-edge restaurant and, at weekends, a venue for jazz, soul and electronic music.

Mariacka Street and the surrounding area is home to more than 200 clubs, cafés and restaurants as well as numerous jazz clubs, pubs and micro-breweries."