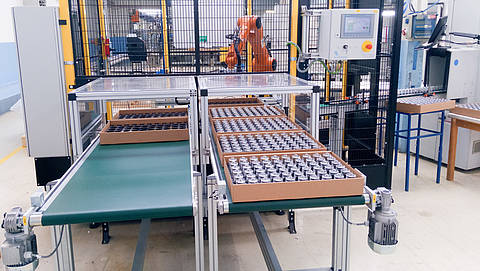 Blumenbecker develops robotics solution
for HEINZ GLAS Decor
Own gripper developed for flacon handling
In mid-2017 Blumenbecker Prag s.r.o. was commissioned by HEINZ GLAS Decor s.r.o. in Hranice, West Bohemia, to develop a robot solution for handling cosmetic flacons.
HEINZ GLAS Decor s.r.o. is a subsidiary of the German family company HEINZ-GLAS GmbH & Co. KGaA, which produces glass flacons in various designs and shapes for the perfume and cosmetics industry.
After the glass flacons have been produced, they are often further processed on special machines. This means they have to be fed into the machine, an activity that until now had been carried out exclusively by hand. This monotonous work was to be replaced by a robot workstation.
The solution from Blumenbecker Prague: The robot takes a complete row of flacons from an open container in which the flacons are arranged in rows, and places them on the conveyor belt that takes them to the next machine. The container is tilted slightly forward to prevent the remaining flacons from falling over or slipping.
A KUKA KR10R1100sixx was selected as the robot. The tool was designed by Blumenbecker Prag itself and consists of two 600 mm long grippers that can pull a series of flacons out of the container at once.
Since the end of March 2018, the new system has been working reliably. "We are very satisfied with the technical solution and the quality of Blumenbecker Prag's work," says Dipl.-Ing. Pavel Istenik, Managing Director of the Czech HEINZ GLAS company. "The entire project was completed on schedule and brought immediate economic results".
Technical details:
Robot KUKA KR10R1100sixx
SIMATIC S7-1500 controller with IM1512SP F-1PN CPU and Simatic I/O modules
Visualization and control of the workstation in service mode with Siemens KTP900 Control Panel on the control cabinet
Reference project
Thanks to the solution developed by Blumenbecker, continuous and error-free filling of the processing machine is guaranteed without interruptions.
To the project