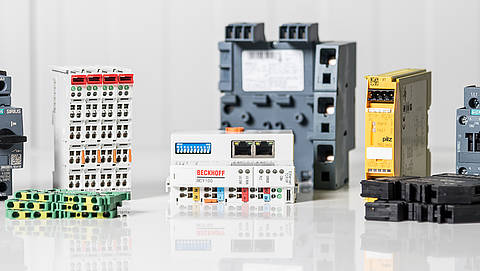 Components for low voltage switchboards
Our offer
Siemens
Wide offer of the leading company
In the modern industrial automation belongs SIEMENS traditionally to those of the absolute top and offers a wide range of products from the switching technology to the control systems and visualization.

Siemens Solution Partner

Blumenbecker Prag s.r.o. as a SIEMENS Solution Partner in industrial automation, drives and NET technology is an eminent business partner of this company for AS branch in the Czech and Slovak Republics. This certificate is valid for following branches:
Automation system SIMATIC
Motion Control
Large Drives
SIMATIC NET
Services
Technical support in Automation: PROFIBUS-DP, PROFINET and SIMATIC
Project preparation, consulting activities and consultations during project realization
3-day professional training for programmers, project and maintenance workers
"Hot-line" over the regular working hours
System integration and components

Blumenbecker Prag offers product supplies together with an advanced technical support and consultancy from a complete SIEMENS AS product portfolio, especially:
All SIEMENS product portfolio needed for industrial automation (HW and SW of SIMATIC S7-300,-400, S-1200, S-1500, field buses PROFIBUS-DP, PROFINET, PROFINET SAFETY, I/O modules, ...)
All needed for low-voltage switchboards and control cabinets (relays, trafos, power units, safety modules, ...)
Frequency converters of all outputs
Switching technology
Phoenix contact
Everything for the industrial automation
Phoenix Contact is another of the top names in the modern industrial automation business. Within the context of automated control systems for technological processes, the company's range includes INTERBUS, PROFINET, PROFINET Safety as well as its own PLC system PC WORX and visualization VISU+

The INTERBUS industrial bus system can be connected to any major PLC system – and it's even possible to connect the majority of the I/O modules and special modules to data buses from other global manufacturers, such as Siemens, Rockwell (Allen-Bradley), GE Fanuc and Schneider Electric. The open nature and networkability offered by INTERBUS and its components, combined with extremely reasonable prices, expose a wide variety of potential applications in highly diverse fields of industry.

SIP partner automation
Blumenbecker Prag Ltd. is a System Integrator Partner (SIP partner) of PHOENIX CONTACT in the field "industrial automation" and provides a technical and commercial support for this company in the Czech Republic. The same activity is provided by our daughter company BLUMENBECKER SLOVAKIA s.r.o. in Slovakia.
Finder
Relays for a wide range of applications
Small converter relays for sockets or printed circuits
Miniature industrial relays
Miniature power relays
Time relays and magnetic counters
Relays for electrical installations
Each relay type is supplied with a wide range of accessories: sockets, clamps, signalling modules, suppression modules, and so on.
Components for low voltage switchboards
Supply of electrical components of world's leading manufacturers
In addition to the products of companies Siemens and Phoenix Contact, we also offer a number of other components, such as:
Circuit-breakers Compact and Masterpact, Preventa safety relays, controls, motor starters, breakers and circuit breakers of SCHNEIDER Electric
ABB drives
SAFETY modulesSecurity features, sensors and transducers of manufacturers PILZ, SCHMERSAL and PEPPERL FUCHS
Switchboard Systems of RITTAL
Special cables of LEONI, KERPEN
Components from other manufacturers such as Baluff, Beckhoff, Danfoss, Dold, Eaton, Endress Hauser, Euchner, Hummel, Kuka, Murr Elektronik, Rockwell Automation, TR Electronics and other leading manufacturers
We are ready to react immediately on your requests and to elaborate a concrete price offer with a full functionality guarantee of the offered specification.
Map of Regional Sales Representatives