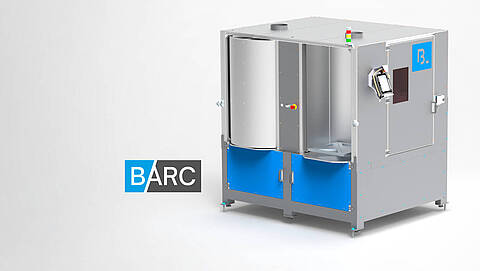 Robotic welding cell B.ARC
Compact solution for your needs
The B.ARC flexible robotic cell is a compact solution for small to medium volume welding applications.
Our solution contains two, safety-independent welding tables, thus significantly reducing the time of the entire welding process. While the robot is welding on one table, the operator can weld on the other table without compromising cell safety. In addition, the operator does not need to have protective goggles. The movement of the drum door is fully automatic and depends on the start or end of the welding process. The operator will thus immediately know that the welding process is properly completed.
The sheet metal enclosure of the robotic cell has safety windows. These inspection windows are not only used to visually check the process, but also to simplify the work of the programmer, for example when finding the robot trajectories.
One of the other advantages of our solution is the compactness of the entire structure, which is self-supporting. The cell can thus be transported with a standard forklift truck.
Design changes can be made by mutual agreement, according to customer preferences. In case of interest, we also offer the possibility of delivering the customized fixtures themselves.
What does the B.ARC solution offer?
Two welding tables with two independent safety circuits
Single operator operation
Automatic movement of rotating drums
Fixture clamping with repeatable accuracy of -+0.02mm
KUKA KRC5 control system
Detailed diagnostics of actuators via graphical interface
Service monitoring possible via remote management
Power distribution box included in the cell
Electrical equipment of the table - Harting 16PIN connector
Connection of fixtures to pressurized air via low-pressure quick coupler
Basic welded steel construction made of 120x80x5 profiles
Safety superstructure made of ITEM profiles
Workplace status signalling using a multi-state optical beacon
Extraction preparation above each table
The equipment complies with the following EN ISO standards:

ČSN EN ISO 12100,

ČSN EN ISO 13849-1

,

ČSN EN ISO 14119

,

ČSN EN ISO 14120

,

ČSN EN ISO 13857

,

ČSN EN ISO 18855

,

ČSN EN ISO 60204-1 ed.3
Technical specification
| | |
| --- | --- |
| Dimensions (W × D × H) | 2 × 1,8 × 2,1 m |
| Weight (without welding unit) | 2 000 kg |
| Robot type | Kuka KR 8 R1440-2 arc HW |
| Control system | Kuka KRC 5 |
| Clamping tables (2 pcs) | 500 x 500 mm |
| Maximum table load | 50 kg |
| Handling door | Automatic with safety impact bar |
| Welding unit | According to customer's requirement |
| Communication | ProfiNet, EtherCat |
| Power supply | 3NPE~50Hz 400V/TN-S, cable 5x10mm, fuse 3x50A |
If you are interested, please contact our sales department:
Lenka Šrámková
Sales Representative
Blumenbecker Prag s.r.o.
Počernická 272/96
108 00 Praha 10
M: +420 727 915 208
lsramkova@blumenbecker.com