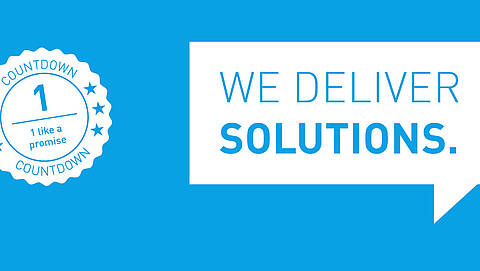 1 like a promise
We deliver solutions
Blumenbecker is diversity and uniqueness. Blumenbecker is regional and international. Blumenbecker is traditional and innovative. As varied as the demands that our customers place on us may be, the promise to our customers is uniform: We deliver solutions.
Whether it's the electrical assembly of a mineral recycling plant in Rotterdam or the overhaul and repair of more than 60 drives. Or a new measuring track for the ICE plant in Munich or the complete service for welding equipment for a company from the region. Three fields of competence, one promise: We deliver solutions.
We didn't choose our claim - our brand promise - "We deliver solutions" by chance. In a staff and customer survey conducted in 2010, three values emerged that make up our brand core: Innovation, Competence and Dialogue.
We solve the customer's problems, we search together for the best solution for the customer and we are in dialogue with the customer. We have developed our promise from this brand core: We deliver solutions.