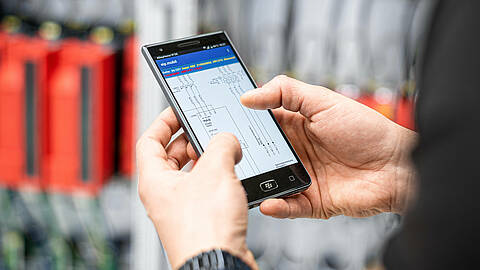 EIP.mobile -
the digital plant documentation app
Seamless access to plant documentation any time, any where
Faults and downtimes of machines and plants are not only annoying, they first and foremost mean loss of turnover. Often valuable time is wasted by searching through several paper folders when you are looking for circuit diagrams, parts lists and handbooks.
That was the past. Finding instead of searching is it now! With our new app EIP.mobile, you can clearly identify the components of a plant by the device designations and access them digitally very easy. From there you can access the entire assembly group, its components and the associated handbooks. In addition, the circuit diagram, assembly plan or layout plan is displayed directly in EIP.mobile.
All information about the system are therefore directly available. For assembly, the app is the mobile site office. For the commissioning engineer, the app provides a better and faster overview of the plant. The maintenance staff saves valuable time. And the management is pleased about shorter downtimes in the production.
Many benefits with EIP.mobile
Are you interested in EIP.mobile and would like more information?
Read more