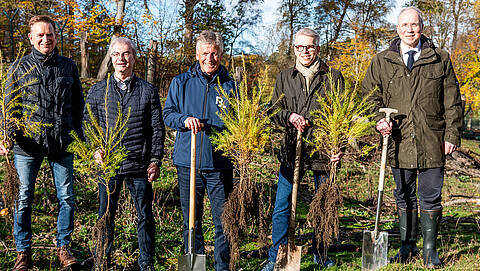 Christmas donation 2022
One hectare of forest for the Völlinghausen Wildlife Park
Donation for reforestation
This year, the Blumenbecker Group has once again chosen sustainability and the environment for its 2022 Christmas donation.
On the edge of the Arnsberg Forest - around 12 km from the Blumenbecker Group's Soest site - lies the Völlinghausen Wildlife Park. The six-hectare park is home to many animals, plants and trees. Due to drought, wind and beetle infestation, some areas have been cleared. The Blumenbeck Group is donating to the wildlife park so that one hectare of forest can be reforested.
In spring 2023, alder and larch seedlings will be planted in the heart of the wildlife park and fenced in for the time being - so that the animals can let the trees grow and flourish in peace.
The Friends and the Völlingen Wildlife Park Working Group rely on donations, grants and volunteers to maintain the site.
"We are pleased to contribute with our donation to develop this place as a home for plants and animals. We want to fulfil our responsibility to leave our future generations an environment worth living in - piece by piece and tree by tree," explains Holding Managing Director Olaf Lingnau, who came up with the idea for the campaign.
Plant the first seedlings symbolically:
Harald Golombek, Olaf Lingnau and Richard Mayer (Managing Directors of B+M Blumenbecker GmbH)