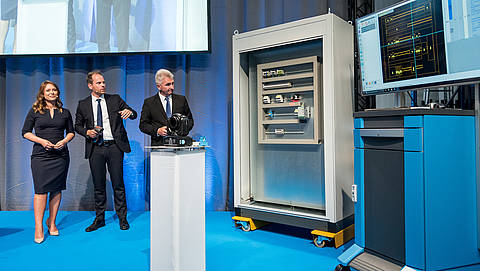 Andreas Pinkwart, NRW Minister for Economic Affairs, on a fact-finding visit to Blumenbecker
Topic: Digitisation
Digitisation was high on the agenda on Friday 24th August when Prof. Dr. Andreas Pinkwart, State Minister for Economic Affairs, Digitisation, Innovation and Energy for North Rhine-Westphalia, paid a visit to the Blumenbecker Group head office in Beckum. In the course of the 2-hour stopover Dr. Wolfgang Fink, Group CEO, used three ongoing projects to explain the company's digitisation strategy to Minister Pinkwart. In a podium discussion held in front of some 60 invited guests representing politics and business in the Beckum area the Minister engaged in an exchange of views with Dr. Fink and company project heads on the digitisation programme under way at industry service provider Blumenbecker. They also discussed the challenges and tasks that would have to be tackled by the political and economic partners in the course of NRW's digital transformation process.
The projects were presented in three short video films showing new digital solutions that have been developed by Blumenbecker in the areas of airport logistics, industry services and switchgear production. These systems, which will have a beneficial outcome for customers, are to be incorporated as part of the Industry 4.0 initiative. Minister Pinkwart then joined the project team in a live podium test to demonstrate the practical application of the new digital switchgear manufacturing process.
Speaking at the end of the visit Minister Pinkwart seemed impressed by the spirit of innovation being shown by the Blumenbecker Group in this area and was keen to praise the internationally established industry service provider as one of the region's most successful exponents of best practice technology: this was further evidence of the important role being played by mid-sized companies in helping to promote the Ministry's drive towards greater digitisation of the NRW economy. The Minister also invited Dr. Fink to join the NRW Platform for Business and Labour 4.0 so that Blumenbecker's expertise and ideas could be applied to the digitisation initiative.
Caption: People from left to right: Dr. Wolfgang Fink, Ralf Herzog, Prof. Dr. Andreas Pinkwart, Achim Serak, Thomas Hagemann
»"Professor Pinkwart takes digitalisation and innovation very seriously, and I'm delighted that he was impressed with our digitalisation strategy and the new projects we showed him. His interest in Blumenbecker is a significant form of recognition for the work of everyone in the Blumenbecker Group."«