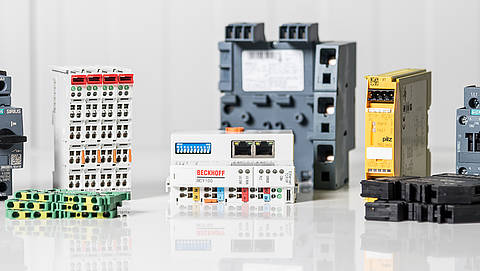 Components for low voltage switchboards
Everything for the industrial automation area
In our commercial activity we offer for our customers supplies of electro material in the area of industrial automation of well-known manufacturers like:
Siemens - complete range of products
Phoenix Contact - complete range of products
Finder - industrial relay
SWAC - operation panels
cables - wide range of cables for various industrial branches and communications.
We offer our customers complete technical support based on our engineering activities, help with specification, substitution and setup. We do our best to offer the service to our clients in a short delivery time and for competitive prices. We are direct business representatives of the above mentioned companies for the Slovak Republic.
Excerpt from our suppliers
Scope of our activities
Components for industrial automation of Siemens (control system Simatic STEP 7, field bus Profibus-DP, Profinet)
Components for industrial automation of Phoenix Contact (control system PC WORX, field bus INTERBUS)
Safety components Pilz
Industrial relays FINDER
Operator panels SWAC
Industrial robots KUKA, FANUC
Cables for various industrial branches incl. special types of them
Our offer
Siemens
Blumenbecker Slovakia s. r. o. is a Siemens system integrator in the field of industrial automation and an important partner for the ASRTP area in the Czech and Slovak Republic. We are happy to advise you on the complete range of SIEMENS "Automation and Drives".
Technology drives
Offer systems and components for a wide range of applications. Frequency inverters SIEMENS cover all the requirements of modern industrial applications, ranging from small inverters via an inexpensive large "megawatt" converters to highly dynamic drives.
Automation systems
Higher productivity, lower costs, shorter startup time, reliability and modern design, all offer you solutions of automation technology by company SIEMENS.
Siemens offers a wide range of products for control and visualization of technological processes. They are mainly S7-200/300/400 PLC SIMATIC, SIMATIC C7, distributed I / O modules, SIMATIC HMI systems, industrial PC and many other products.
Company Blumenbecker Slovakia Ltd. is a system integrator of Siemens in the field of industrial automation and is a major trading partner of the company for the department ASRTP in the Czech and Slovak Republic.
Process automation
SIEMENS offers equipment and systems for all process automation tasks. Measuring and recording equipment, controllers, analyzers, actuators and process control systems are adaptable to the dynamics of each process. The main representatives of this group are particularly SIMATIC PCS 7, TELEPERM, weighing systems, field instrumentation etc.
Communications and networks
Includes industrial communication SIMATIC NET with network AS-Interface, PROFIBUS, Industrial Ethernet and the latest industrial ethernet PROFINET real time.
Switching and control components for low voltage
Wide range of products to 1000 V, it contains mainly products series SIRIUS, SIVACON, SENTRON, fuses, transformers, etc.
Electrical Installation Technology
Components for installation in buildings from Siemens are developing for over 110 years and is constantly being improved using the latest technologies such as. Instabus EIB.
Sensors, measuring and testing technology
Siemens offers a wide range of sensors presence (ultrasonic, optical, inductive, capacitive), safety sensors (light curtains, laser scanners ...), RFID systems (wireless MOBY identification systems), systems for image processing and incremental sensors.
Power supplies
Provide safe and reliable power supply for all technology requirements. They are mainly products SITOP Board, SIDAC S, T SIDAC, SIDAC D / F...
Safety systems
Safety technology by company Siemens to protect humans, technology and the environment. Integrated security, ranging from sensors, evaluation units to a safe shutdown, provide maximum protection against operational errors using product lines SIGUARD, SIMATIC and SINUMERIK / SIMODRIVE.
Phoenix contact
Phoenix contact is a leading manufacturer of terminals, connectors, signal processing, surge protection and automation technologies.
CLIPLINE - Terminals and terminal modules
From the single terminals after terminal modules, accessories and practical tools for installation, software supported proposals Phoenix Contact offers everything you need for complete equipment distributors.
PLUSCON - Industrial connectors
The complete range of connectors in various versions, to help you increase efficiency when installing your systems and applications can be found in this part of the production Phoenix Contact.
COMBICON - Connectors for PCB
This group of products offers a wide range terminals and connectors intended for mounting on printed circuit boards. Further comprises a group of plastic covers and boxes for the PCB especially suitable for various manufacturers specialized electro modules.
TRABTECH - Surge protection
Phoenix Contact, as one of the top manufacturers in the world offers a wide range of features covering both surge protection and power supply equipment parts, but also data devices.
INTERFACE - Converters and signal processing
Range of products INTERFACE includes converters and interfaces for digital and analog signals as well as stabilized power supplies, PLC cabling and electronic load relays.
AUTOMATIONWORX - Automation technology
One of the youngest but most dynamically developing production parts Phoenix Contact offers a wide range of modules for connection of sensors and controls, fieldbus, control systems based on PLC, Ethernet components to the visualization software. High technical and quality level required for the automation of production processes in all areas of industry for Phoenix Contact is an absolute commonplace.
Finder
Company Finder is a global manufacturer of relays with 14 offices in Europe and the USA and over 40 offices worldwide.
We supply relay for different fields of application, various types and parameters:
Miniature relays for printed circuit board

Miniature industrial relays

Small transmission relays for socket or PCB

Industrial relay

Power relay

Time and memory relay
Programmable relay

Relay for electrical installations
For various types we deliver a wide range of accessories such as sockets, clamps, signaling and suppression modules.
SWAC
The company Blumenbecker for its activities in the automotive industry has established close cooperation with the German company SWAC GmbH. Operator panels SWAC now represent a standard for control of technological processes in the Volkswagen Group.
Our offer of solutions SWAC includes:
Delivery
Installation at client
Warranty and post-warranty service
Operator training
Delivery of spare parts
Dealer SWAC focuses on the:
Control and visualization
Drives and welding
Pilz
We offer a complete range of German company Pilz, a specialist in safety machinery.

Pilz offers products can be divided into the following field:
Management and control
In 1964 mercury switch was the basic for the first mercury relay. Over years the relay continuously improved and disseminated to the existing control equipment for various uses.
Switches and indicators (PIT)
Pilz Automation offers a safety system also buttons, lights and beacons for industrial use.
The advantage is optimal compatibility with other devices Pilz.
In addition, Pilz products provide maximum level of safety and reliability, the two most important criteria for the safe management of machinery and equipment.
PSEN sensors for machinery and equipment
Safety sensors in automated processes for the effective protection of the operator and the prevention of accidents, whether they interact with humans and machines.
Safety control equipment
Safety switching devices, programmable control and safety bus.
Since 1968, constitutes a permanent position safety equipment on offer Pilz. Currently Pilz standard-setter in the field of technology, starting with the first emergency stop devices PNOZ, through the management of PSS and to the openly bus SafetyBUS.

Range of products includes a variety of solutions and deployment options, such as.: EMERGENCY STOP, Two-Handed desk, photocells, etc.

Thanks to the experience and practice in machinery safety products of the Pilz company offer optimal solution for your tasks.
HMI panels
Pilz also offers a system for visualizing and interacting with technology service. Correctly diagnosis is a significant reduction in downtime and increase efficiency.

For these tasks, Pilz offers a variety of systems, ranging from diagnostic tools series PMImicro diag to powerful control panel with touch screen PMIvisu and PMIopen.