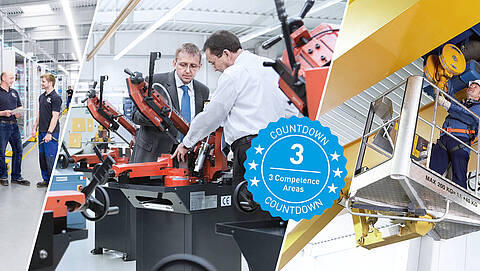 3 like 3 fields of competence
Unique in different ways
Blumenbecker is a family-owned company, an industrial service provider and multi-faceted.
Some employees build airport ground support equipment. Others maintain cranes and gates. Still others build control cabinets. While some sell welding equipment, others program laser welding robots. Some deal with bin picking and offline programming and others with roof platforms, e-procurement or machine tools. What all employees have in common is that they are part of the Blumenbecker family. What differentiates them is that they work in different fields of competence.
The Blumenbecker Group's business activities are divided into:
Industrial-Automation
This competence area combines engineering and automation technology. Whether conception and realization of new plants or upgrading and retrofitting of existing systems – we implement our solutions according to customer requirements nationally as well as internationally.
Industrial-Trade
In industrial-trade, we consult and sell: Whether chain hoist or head guard, roller bearing or machine tool, dolly or compressed air distributor – the range is huge and includes industrial supplies, capital goods and electrical components.
Industrial-Service
In industrial-service, we take care of the assembly, maintenance, testing and repair of tools, machines, gates, motors and cranes – no matter whether it is a large plant or a small power tool. Railway technology is also part of it, as well as loading technology, robots or welding equipment and much more.
Blumenbecker is much more than just a single service of an individual order. The unique selling point comes from diversity. Customers want their processes to operate smoothly and in the best possible way in the long term – and Blumenbecker is their one-stop partner.
As different as the activities and areas of responsibility may be: In the Blumenbecker Group, everyone works together for the customers – and that is what characterizes Blumenbecker.