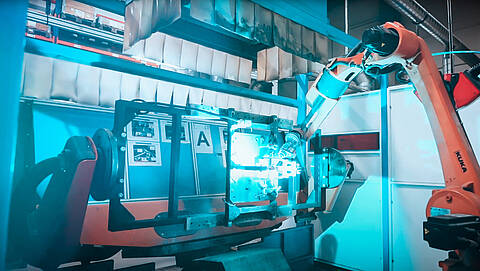 Development of 5 robotic welding cells
Our customer: SW-MOTECH s.r.o.
The company SW-MOTECH s.r.o. is located in Vojkovice. This German brand operates as a technological and manufacturing company in the field of serial production of precision components made mainly from metal sheets, rods and tubes. Specifically, the company deals mainly with motorcycle accessories such as parachutes, stands, cases and others. The SW-MOTECH Ltd. brand represents reliable braking solutions with the highest production standards.
Welding cells project description
In the production hall of SW-MOTECH s.r.o. you will find today a total of 5 of our robotic workstations welding with the MIG/MAG method.
The basis of each workstation is a KUKA industrial robot with a rotary table on which the welding fixtures are mounted. The turntable solution enables the parts to be placed on one side and welded on the other. This allows us to achieve significantly faster cycle time while fully utilising the robot's capacity.
The robot itself is mounted on an elevating base for longer reaches. The robot on the pedestal is located on a common base together with the turntable and the actual structure with cleaning and milling unit. An extraction funnel connected to the central extraction is added above the workstation to ensure a cleaner work area. The welding cell is equipped with a solid sheet metal guarding and safety polycarbonate sight glasses, on both sides, in order to allow the operator to visually inspect the welding process.
Our customer says:

»We were very impressed by Blumenbecker Prag's innovative solution for speeding up the production cycle. All projects were completed in the required time and above all without any major problems.

Thank you very much for your contribution to our company.«