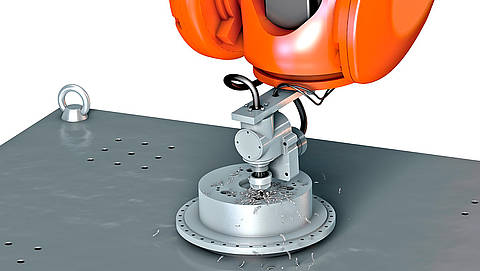 Robotic machining
Flexible and efficient
Flexible and efficient
Robotic machining is becoming more and more popular. In comparison with machining centers, robot machining offers far greater flexibility in terms of possible applications and, above all, a larger operating range. Adding a biaxial positioner to a robot gives you two more axes that are controlled synchronously with the robot motion. By attaching the robot on a linear travel path, the work area can be extended even further. Just like CNC machines, a robot can also work as an automatic tool changer and change tools during the machining process.
Basic tasks of robotic machining
Milling Classic: 3D or 5D milling of materials for example non-ferrous metals, wood and plastic.
Burring: Burring of cast parts, aluminum alloys and cast iron.
Cutting: Laser / plasma cutting
Grinding: Grinding shaped complex plastic and coposite matirials.
Polishing: Polishing of different materials.
Your individual robotics solution

In the field of robot machining Blumenbecker offers individual solutions according to your requirements. We use only state-of-the-art software tools (Autodesk PowerMill, Siemens Process Simulate) and have our own test center. After consultation with you, we carry out feasibility tests, in which the performance of the robot is verified virtually, taking into account the required surface quality and the desired cycle.
Blumenbecker has an experienced team with many years of practical experience in industrial robotics. We know the capabilities and limitations of robots for machining applications, and always perform accurate tool calibration and object positioning to maximize accuracy and ensure a smooth workflow.
We provide you with the complete workplace from a single source, integrate the robot solution into your processes and systems, train the operating personnel and provide reliable technical support.
The advantages of robotic machining
More flexibility and space
Offline programming of the robot arm paths
Affordable 5D processing
Cost and time savings through faster commissioning
Our services
We take time for you
At the start of our relationship, we conduct an in-depth consultation to analyze your requirements of your pallitizing solution and identify any areas with potential for improvement. Next, we design and configure the robot palletizing station to meet your requirements while maximizing their value to you.
End-to-end design - more than hardware
We design not only your specific solution, but also its integration into your production process. This gives you planning certainty at an early stage. Equipped with the latest 3D design software, our engineers will expertly plan and simulate your robot workstations and robot cells.
More than code
We program robots, sensors and PLCs with state-of-the-art software. This includes designing robot work cells in 3D as well as conducting offline simulations prior to production. With this approach, we can design and test production processes in a dynamic 3D environment, define and validate production process sequences with realistic behaviours and optimized cycle times and simulate the initial start-up of production systems. Manufacturing schemes are tested virtually in advance in order to eliminate design flaws early on and verify information flows between the PLC and the robots. All these preparations get your system up and running much sooner.
Our wide-ranging experience in robot programming gives us the tools to tackle complex automation challenges in industrial facilities around the globe.
End-to-end project management up to commissioning
We will assign you a project manager to coordinate your project from consultation to implementation and beyond. Our experts will install and commission your system under the project manager's supervision.
They monitor the start-up process, test availability and optimize processes to quickly integrate the equipment into your production process. Our services include shift supervision by our engineers as well as operator and maintenance technician training.
Installation and dismantling
Assembly in the field of industrial robotics requires a high degree of expertise and flexibility. Our large team of skilled workers, masters, technicians and engineers takes care of your needs. If required, we also dismantle or replace your old systems.
Keeping everything running smoothly
Our end-to-end service approach ensures high customer satisfaction and excellent machine performance. If you wish, we can provide comprehensive after-sales service for our robotics solutions all over the world. We not only perform routine maintenance, but also supply parts and accessories for mechanical and electrical systems and reprogram or modify machines as required.

Our skilled technicians perform routine maintenance on robots – whether we supplied and installed them or not. We act as a KUKA System Partner in this capacity, for example.
Our services include:
Regularly maintaining robots
Supplying and installing spare parts
Modifying robot designs and features
Reprogramming and retooling
Repairs that cannot be completed in the field will be performed at one of our well-equipped repair shops. We keep frequently needed spare parts in stock.
We can also help with any unforeseen problems with your robots. We respond swiftly and use tried-and-tested troubleshooting processes to get your production up and running again quickly.
We share our knowledge
We offer training and further education courses at training centres in Prague, Bratislava, Katowice, Kiev and Iserlohn to help our customers get the most out of their robotics solutions. Robots are installed in the classrooms to aid learning.
We teach well over 100 courses each year on topics such as:
General operator training for the installed system
Robot maintenance training
Robot programming training
Software training for Blumenbecker robot software
We keep the most important spare parts of the robots installed by us in stock and are able to deliver them to you within 24 hours. Through cooperation with our other divisions, we can also offer you qualified engineering and repair services for more complex tasks. Thanks to our numerous service points, one of our technicians is always close to you and guarantees the smooth functioning of your robot systems.
We offer you a tailor-made and vendor-neutral maintenance service and carry out any necessary repairs immediately.
Decided to modernise or overhaul your equipment? Count on our help for every project phase – from preliminary consulting to developing the project documentation to programming and execution.
We modernise old automation systems such as old Simatic S5 central systems by replacing them with new systems such as Simatic S7 with distributed modules. Equipment upgrades are in good hands with us, too.