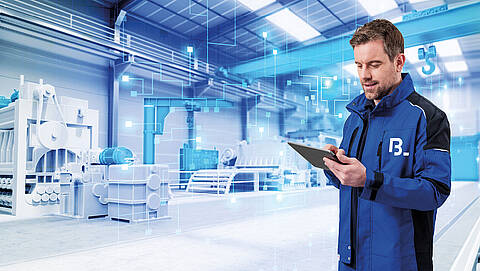 Maintenance: the modern face
Installing, consolidating and developing digital processes has become part of the requirements specification of every industrial company. Procurement and manufacturing processes are now digitally optimised to a large degree. However the same cannot be said for operational maintenance – and this is set to change. With Industrial Service 4.0, Blumenbecker can now offer a digital maintenance service that covers all process levels.
SOLUTIONS met up with Olaf Lingnau (Managing Director) and Marcel Horstmann (Head of Digital Services) of Blumenbecker Industrie-Service to talk about the digital product that has been on the market since September 2018.
What makes Industrial Service 4.0 so important?

Marcel Horstmann:

For a start, maintenance is something that affects almost every company, as every employer is legally obliged to provide safe working equipment and materials. If testing intervals are exceeded and equipment is not properly maintained on time, the resulting outage can prove expensive. Other serious consequences include the loss of insurance cover, prosecution and even claims for damages.

Olaf Lingnau:

What is more, maintenance can pose a real challenge. Even in medium-sized firms there may be up to 10,000 individual items in both the production and administration areas that have to be tested for maintenance purposes. Industrial customers, who are more broadly positioned and have several production sites and more than one point of contact for servicing and maintenance work, tend in particular to demand endto- end digital services that make maintenance routines faster, more reliable and more transparent.
You define Industrial Service 4.0 as an end-to-end digital process.
What does that really mean?

Olaf Lingnau:

With Blumenbecker Industrial Service 4.0 there is no longer a media break between the analogue and digital process levels. Order registration, scheduling, in-situ identification of plant and equipment, report compilation, customer acceptance and the submission of the inspection report – this is now all done digitally to create a process that is transparent and trackable for the customer.
So does this spell the end of test reports on carbon paper?

Marcel Horstmann:

It certainly does. Digital reports not only save paper, but more importantly are less wasteful of time and resources as they do away with the laborious work of searching through endless files and folders when doing audits, for example. What is more, the customer can choose either to receive the inspection report by email for storing in his own data infrastructure or to make use of our maintenance portal.
What are the benefits of the digital maintenance portal?

Olaf Lingnau:
For a start, the maintenance portal is an audit-proof repository. The customer has all his inspection records together in one place. Authorised members of staff can log into the online portal at any time and access the documents on demand. The new inspection report is immediately uploaded after each service. Each report is unalterable. If a fault is identified on a piece of equipment and a repair is effected, a new report will be prepared specifically documenting the work that has been done. This generates a transparent and continuous inspection history.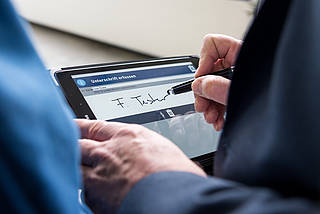 Is this a maintenance portal for every item of equipment?

Marcel Horstmann:
Yes. The portal can display the customer's entire infrastructure: not only fixed objects such as motors, lifting platforms and door and gate systems but also all kinds of portable equipment – from high-pressure washers and soldering irons to desk lamps.

Olaf Lingnau:
Assigning each maintenance object its own registration number makes for easy identification and allows all relevant data and documentation to be quickly retrieved. Even maintenance objects that are serviced by third parties can be included in the portal. The client therefore has a single tool for monitoring the maintenance status of all items of plant and equipment that are subject to inspection and can do this without overloading his own data infrastructure.
But does the customer then have to think ahead to the next maintenance session?

Olaf Lingnau:
That depends. For equipment that is maintained by Blumenbecker, the system is proactive, and after each completed inspection it automatically arranges the next scheduled test. This makes it much easier to organise the maintenance routine and the customer can be sure of meeting the obligatory dates.
Has Industrial Service 4.0 also changed things inhouse?

Marcel Horstmann:
Absolutely. Developing this digital service has also allowed us to optimise our own procedures. The entire workflow has been speeded-up. Many of our outside activities have now been relocated back to the office. Our service engineers receive their orders digitally and they also collect and transmit the relevant data by digital means. The back-office team does the digital analysis work and then immediately makes the results available in digital form. Repair quotes can also be produced quickly this way.
Our customer says:

»Thanks to digitisation and the maintenance portal we
now have the best possible overall view of the status of
our operating equipment at any point in time and can
take preemptive action that will save time and money.«
Where does your expertise in this field come from?

Olaf Lingnau:
Industrial Service 4.0 is a logical continuation of what we have been doing over recent years, for testing mobile and fixed electrical plant and equipment is our core business. We service and maintain every kind of electrical device and piece of equipment connected with our clients' production and administration work. And we are among the market leaders when it comes to door and gate systems and electrical machinery.

Marcel Horstmann:
Unlike conventional testing establishments, we not only identify faults but can also repair equipment from any manufacturer and even develop optimisation solutions. This is an area where for some time now we have been using modules such as the digital order registration and materials entry system that digitally communicate the orders to the fitting engineer. When our client Volkswagen Osnabrück expressed an interest in digital collaboration two years ago, this spurred us on to digitising our own test reports and then to complete the process we had started.
Looking ahead to the future, are plans being laid for Industrial Service 5.0?

Olaf Lingnau:
Our aim is to relieve our customers from all their worries over the smooth functioning of their machines. We want to be proactive in helping to eliminate downtime. Our preventive maintenance regime allows us to monitor plant and machinery on a virtual control panel and to collect and process operational data – which can then be made available to the customer in a visually edited format. A traffic-light system shows where things are in the green zone, where malfunctions are likely to occur in the near future, and which items of equipment are in immediate need of a response. The repair work can then be planned out in a way that best fits in with the operating schedule.