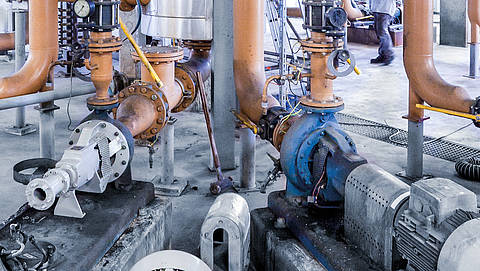 Overhaul at the Brökelmann + Co oil mil
It's all running like a well-oiled machine at Hafenstraße in Hamm.
Where Brökelmann + Co produce edible oil on a grand scale: rapeseed oil, sunflower oil, safflower oil, frying oil and walnut oil, all of which are sold by the owner-run company under its own labels Brölio and Noury as well as under generic trade brands. The company range also includes feedstuffs, wholemeal and fatty acids. Blumenbecker Industrie-Service acts as a servicing and maintenance partner for the company's technical plant.
Oil mills and oil extraction
The original oil mill was set up in Hamm in 1226, shortly after the town's foundation, and the Hamm Oil Mill was then acquired in 1845 by Friedrich Brökelmann and associates. Today, more than 170 years later, the mills remain the core of the edible-oil production process. It is here that the seeds and kernels are squeezed dry after cleaning and rolling in screw presses. Brökelmann produces two thirds of its oils this way. What's more, the edible-oil specialist does it all by the so-called › extraction ‹ method, a process whereby the oil is recovered from the seeds using hexane gas.
A high-technology process with 130 drives
" Today the production of edible oil is a high-technology process ", explains Frank Tüttmann of Blumenbecker Industrie-Service. He continues: »"At Brökelmann's there are more than 130 motors, gearboxes, pumps and fans operating in the mills and extraction hall alone. And processing more than 1,500 tonnes of oilseeds a day without fail means that every single one of these has to perform trouble-free."
"Blumenbecker completed all the work to our fullest satisfaction and in the short deadline specified."
A challenging overhaul in an explosive environment
Every 18 months Brökelmann shuts down a large part of the plant so that a major overhaul can be carried out. This was done again in 2017, with Blumenbecker as the servicing partner. As soon as the machines were stationary the engineers had to act quickly and competently to ensure that the downtimes were kept to an absolute minimum.
The ambitious target of 14 days for 130 drives was extremely tight. This was a real challenge, especially as 110 of the drive units were located in the extraction hall. And this was the area where the highly explosive gas hexane was being used. Specially trained staff and special tools were required to work on the explosion-proof machines. Just seven days were set aside for the maintenance work in this sensitive area. And even before the Blumenbecker specialists could set to work they had to ensure that the extraction hall was completely free from any potentially explosive hexane.
Project managers on site
The go-ahead was finally given and the overhaul could commence. The service technicians then got down to some serious work. The drives not only had to be serviced but also re-calibrated and issued with a test certificate. The project management team was able to remain on site throughout thanks to a specially installed accommodation container. This meant that Blumenbecker could react quickly to any unplanned situations and carry out additional work if needed. This really paid off in the end.
Instead of the scheduled 14 days the Blumenbecker Team only took 12 days in total to overhaul the 130 drive units.