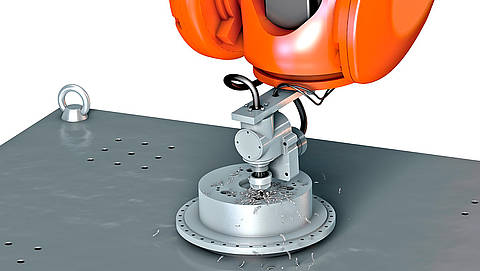 Robotic machining
Flexible and efficient
Flexible and efficient
Robotic machining is becoming more and more popular. In comparison with machining centers, robot machining offers far greater flexibility in terms of possible applications and, above all, a larger operating range. Adding a biaxial positioner to a robot gives you two more axes that are controlled synchronously with the robot motion. By attaching the robot on a linear travel path, the work area can be extended even further. Just like CNC machines, a robot can also work as an automatic tool changer and change tools during the machining process.
Basic tasks of robotic machining
Milling Classic: 3D or 5D milling of materials for example non-ferrous metals, wood and plastic.
Burring: Burring of cast parts, aluminum alloys and cast iron.
Cutting: Laser / plasma cutting
Grinding: Grinding shaped complex plastic and coposite matirials.
Polishing: Polishing of different materials.
Your individual robotics solution

In the field of robot machining Blumenbecker offers individual solutions according to your requirements. We use only state-of-the-art software tools (Autodesk PowerMill, Siemens Process Simulate) and have our own test center. After consultation with you, we carry out feasibility tests, in which the performance of the robot is verified virtually, taking into account the required surface quality and the desired cycle.
Blumenbecker has an experienced team with many years of practical experience in industrial robotics. We know the capabilities and limitations of robots for machining applications, and always perform accurate tool calibration and object positioning to maximize accuracy and ensure a smooth workflow.
We provide you with the complete workplace from a single source, integrate the robot solution into your processes and systems, train the operating personnel and provide reliable technical support.
The advantages of robotic machining
More flexibility and space
Offline programming of the robot arm paths
Affordable 5D processing
Cost and time savings through faster commissioning