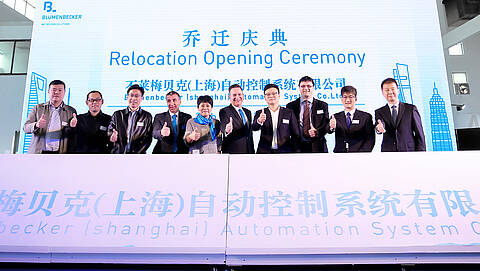 Success story in Asia continues
Relocation opening ceremony
In the presence of German customers and Chinese business partners, Blumenbecker (Shanghai) Automation Systems Co. Ltd. inaugurated its new 3,500 sqm production facility in Shanghai on 28 March 2019.
What began in 2004 with a cautious first step towards China is now a success story: Blumenbecker opened its first own production facility in Shanghai in 2006, and a second plant was added in Tianjin in 2010. Over the last three years, the company has achieved an annual growth rate of 15% and therefore needed more production space. With the inauguration of the new production facility in Shanghai, the next step was taken. The Tianjin and Shanghai sites now have a total production area of 6,000 square meters.
"With over 80 employees and a turnover of around 13 million €, Blumenbecker (Shanghai) Automation Systems is today one of our fast-growing subsidiaries," emphasized Harald Golombek, Managing Director of the holding company and the Automation Technology Division, in his opening speech. "We are thus offering our customers a platform with different competencies and opportunities for close international cooperation, not only in Germany, but also in China."
China managing director Qiaoling Di-Heil thanked the employees for their commitment and underlined the advantages of the new production: "Thanks to a new, efficient logistics concept, the operational processes are accelerated and we can complete larger volumes more efficiently. Our goal is to continue our growth in China and to the market development, i.e. to grow with our customers and to expand our range of services analogously to Germany."
The opening was accompanied by a traditional Chinese lion dance, considered a lucky ritual for the opening of new buildings.