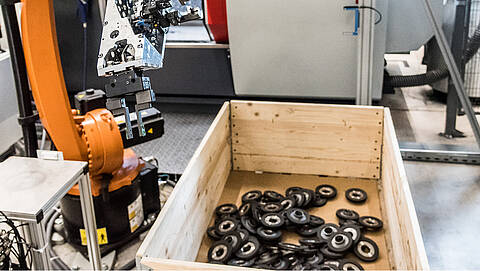 Bin Picking on the electromagnetic brake line
Taking a firm grip
"Brakes are safety-relevant components. Either they are perfect or they do not leave the factory," says Jürgen Kampmeier, production planner for resource management at Intorq GmbH & Co. KG sets the quality standard. Since November last year, the brake specialist has been using Bin Picking from Blumenbecker in production for the first time. The task: rotors in six sizes plus sub-versions are to be fed to a CNC machine. The die-cast parts are arranged chaotically in a box. Previously, the components were sorted and repacked by hand.
For Intorq, the experts at Blumenbecker Prag s.r.o. developed a special triple robot gripper that can hold three components and thus avoids empty runs. With the help of a 3D camera, the robot searches for the right part in a box, picks it out and feeds it to the CNC machine. "The robot puts a fully toothed rotor on a fully toothed mandrel and removes machined parts in the same step and guides them back in the fastest and collision-free way," explains Marten Arnold, Project Manager Blumenbecker Industrie-Robotik GmbH.
Before this could be realized, the Blumenbecker specialists constructed the entire machine as a 3D model, simulated the desired behavior of the robot and programmed the control software developed in-house.
"Right from the start, we had the feeling that Blumenbecker knew exactly what they were doing. The requirements were immediately understood and implemented. Above all, we got a tried and tested, fully developed process that works perfectly," confirms Jürgen Kampmeier.
SOLUTIONS 2019
Further information are also available in the new edition of the company magazine SOLUTIONS.
Show more